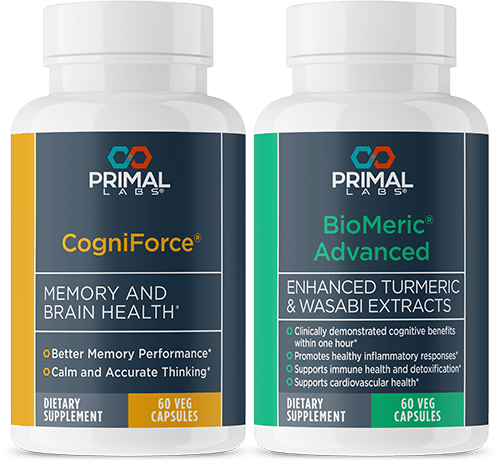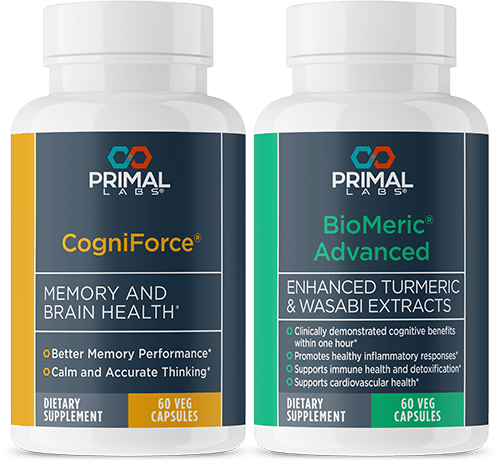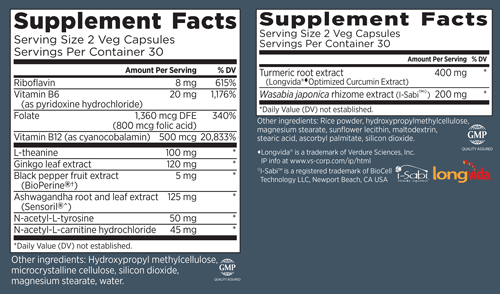 CogniForce and BioMeric Advanced
CogniForce provides the key nutrients for cognitive function and brain health maintenance. A standardized root extract known as KSM-66, and L-theanine work to reduce stress hormones and promote more clear and relaxed thinking.

BioMeric Advanced combines two traditional botanical extracts in enhanced forms for maximum bioavailability. First, Longvida turmeric extract delivers 95 times more free curcumin, thus ensuring optimal absorption in tissues throughout the body. Next, i-Sabi, delivering the potent active compound 6-HITC, which has been shown in preliminary studies to support liver health, detoxification, enhanced brain neurite growth, and immune health.
CogniForce
Nourish your mind with these 10 brain-feeding nutrients
Let your brain feast on the 10 nutrients it desperately craves.

The Cogniforce brain-feeding supplement is specifically designed to promote...
Faster memory recall*
Heightened awareness*
Enhanced concentration*

You might assume these things are only affected by age.

However, with the correct nutrition you can help reverse the effects of aging and keep your brain running like new … effectively rebuilding your brain.*

The first ingredient, Acetyl L-Carnitine (ALC), is a neurotransmitter building block which provides a wide range of brain health benefits.*

An Italian study showed that elderly people who took ACL performed significantly better on memory tests.*

That's because they add to the deep mass of neurons which control memory. This is the first ingredient your brain gorges on.

But Cogniforce still hasn't dished up the second course.

Feel the effects of L-theanine - shown to increase your alpha brain-wave activity. These are the "feel-good" brain-waves you experience when you're relaxed, alert and clear.* Oxford University noticed it has effect after just 30 minutes.

And leave room for Cogniforce's Gingko Leaf Extract. This remarkable ingredient is linked with increased blood-flow to the brain. It is also shown to boost microcirculation - helping carry these nutrients through its tiniest capillaries. Rounding out the formula are several B vitamins associated with improved memory performance: Folic Acid, Vitamin B6 and B12.*

Is your brain hungry for these nutrients?

Why not try Cogniforce and see for yourself?

If you don't feel as sharp, focused and alert as you've ever been, simply return the bottle for a full refund.*

BioMeric Advanced™
Biomeric Advanced™ Improves brain function in 1 hour!
Want better mental focus and memory recall? Look no farther than Biomeric Advanced™, our exciting breakthrough in the bio-delivery of brain-boosting curcumin.

Recent research has confirmed that turmeric root extract, a widely-used spice in Indian and Asian cooking, is one of the most potent nutrients for brain and body health. In fact, in India, where turmeric is prominent in the diet, age-related cognitive decline is rare.

What's turmeric's secret?

Inside the plant's roots are unique antioxidant compounds called curcuminoids, which studies have shown improve blood flow, support healthy arterial linings, fight oxidative stress, and promote normal inflammatory responses -- all of which support your brain, heart, joints, and skin as you age, while also promoting energy.

The problem up to now has been getting enough curcumin into the blood stream to get results, as this nutrient is very poorly absorbed.

Now, Biomeric Advanced™ solves that problem with the patented Longvida Solid Lipid Curcumin Particle™ technology , which makes free curcumin 67 to 285 times more bioavailable than standardized 95% curcumin, while also safely crossing the blood-brain barrier.

You're going to feel the difference — and FAST!

In a university study, 400 mg of Longvida optimized curcumin showed improvements in focus and memory recall among healthy older participants starting in just one hour. And over a 30-day period, participants enjoyed improvements in calmness, mood, and energy.

And there's more to this great formula!

Biomeric Advanced™ also contains 200 mg of i-Sabi, derived from the wasabia japonica plant. This neutraceutical stimulates the Nrf-2 protein, known as the body's master switch for cellular protection and repair. I-Sabi promotes brain neurite growth, antioxidant activity, and the activation of natural killer cells for healthy immune responses.

With Biomeric Advanced™ you get both Optimized Curcumin and i-Sabi, the one-two punch for boosting brain power, protecting heart health, and enhancing youthful vigor. Try it risk-free today!
CogniForce
Arrigo A, Casale R, Buonocore M, Ciano C. Int J Clin Pharmacol Res. 1990;10(1-2):133-7.
Benedict CR, Anderson GH, Sole MJ. Am J Clin Nutr. 1983 Sep;38(3):429-35.
Bianchetti A, Rozzini R, Trabucchi M. Curr Med Res Opin. 2003;19(4):350-3.
Biswajit Auddy, PhD; Jayaram Hazra, PhD; Achintya Mitra, MD;
Bonavita E. Int J Clin Pharmacol Ther Toxicol. 1986 Sep;24(9):511-6.
Brooks JO 3rd, Yesavage JA, Carta A, Bravi D. Int Psychogeriatr. 1998 Jun;10(2):193-203.
Bruce Abedon, PhD; Shibnath Ghosal, PhD. 2008. Withania somnifera.
Bryan J, Calvaresi E, Hughes D. J Nutr. 2002 Jun;132(6):1345-56.
de Jager CA, Oulhaj A, Jacoby R, Refsum H, Smith AD. Int J Geriatr Psychiatry. 2012 Jun;27(6):592-600.
Deijen JB, van der Beek EJ, Orlebeke JF, van den Berg H. Psychopharmacology (Berl). 1992;109(4):489-96.
Dodd FL, Kennedy DO, Riby LM, Haskell-Ramsay CF. Psychopharmacology (Berl). 2015 Jul;232(14):2563-76.
Erickson KI, Suever BL, Prakash RS, Colcombe SJ, McAuley E, Kramer AF. Brain Res. 2008 Mar 14; 1199:20-6.
Garzya G, Corallo D, Fiore A, Lecciso G, Petrelli G, Zotti C. Drugs Exp Clin Res. 1990;16(2):101-6.
Gessner B, Voelp A, Klasser M. Arzneimittelforschung. 1985;35(9):1459-65.
Gomez-Ramirez M, Kelly SP, Montesi JL, Foxe JJ. Brain Topogr. 2009 Jun;22(1):44-51.
Herrschaft H, Nacu A, Likhachev S, Sholomov I, Hoerr R, Schlaefke S. J Psychiatr Res. 2012 Jun;46(6):716-23.
Ihl R, Tribanek M, Bachinskaya N; GOTADAY Study Group. Pharmacopsychiatry. 2012 Mar;45(2):41-6.
Kado DM, Karlamangla AS, Huang MH, Troen A, Rowe JW, Selhub J, Seeman TE. Am J Med. 2005 Feb;118(2):161-7.
Kaschel R. Phytomedicine. 2011 Nov 15;18(14):1202-7.
Kennedy DO, Haskell CF, Mauri PL, Scholey AB. Hum Psychopharmacol. 2007 Jun;22(4):199-210.
Kennedy DO, Jackson PA, Haskell CF, Scholey AB. Hum Psychopharmacol. 2007 Dec;22(8):559-66.
Kimura K, Ozeki M, Juneja LR, Ohira H. Biol Psychol. 2007 Jan;74(1):39-45.
LaSala GS, McKeever RG, Patel U, Okaneku J, Vearrier D, Greenberg MI. Clin Toxicol (Phila). 2015 Feb;53(2):108-12.
Le Bars PL, Katz MM, Berman N, Itil TM, Freedman AM, Schatzberg AF. JAMA. 1997 Oct 22-29;278(16):1327 32.
Le Bars PL, Kieser M, Itil KZ. Dement Geriatr Cogn Disord. 2000 Jul-Aug;11(4):230-7.
Loos U, Marklein G, Scholl H, Schwabe HK. Pneumologie. 1990 Feb;44 Suppl 1:312-3.
Louwman MW, van Dusseldorp M, van de Vijver FJ, Thomas CM, Schneede J, Ueland PM, Refsum H, van Staveren WA. Am J Clin Nutr. 2000 Sep;72(3):762-9.
Lu K, Gray MA, Oliver C, Liley DT, Harrison BJ, Bartholomeusz CF, Phan KL, Nathan PJ. Hum Psychopharmacol. 2004 Oct;19(7):457-65.
Mahoney CR, Castellani J, Kramer FM, Young A, Lieberman HR. Physiol Behav. 2007 Nov 23;92(4):575-82.
Malaguarnera M, Gargante MP, Cristaldi E, Colonna V, Messano M, Koverech A, Neri S, Vacante M, Cammalleri L, Motta M. Arch Gerontol Geriatr. 2008 Mar-Apr;46(2):181-90.
Mayer G, Kröger M, Meier-Ewert K. Neuropsychopharmacology. 1996 Nov;15(5):456-64.
Mayeux R, Sano M. N Engl J Med. 1999 Nov 25;341(22):1670-9.
McNulty H, Dowey le RC, Strain JJ, Dunne A, Ward M, Molloy AM, McAnena LB, Hughes JP, Hannon-Fletcher M, Scott JM. Circulation. 2006 Jan 3;113(1):74-80.
Mix JA, Crews WD Jr. Hum Psychopharmacol. 2002 Aug;17(6):267-77.
Montgomery SA, Thal LJ, Amrein R. Int Clin Psychopharmacol. 2003 Mar;18(2):61-71.
Nasab NM, Bahrammi MA, Nikpour MR, Rahim F, Naghibis SN. J Pak Med Assoc. 2012 Jul;62(7):677-80.
Nobre AC, Rao A, Owen GN. Asia Pac J Clin Nutr. 2008;17 Suppl 1:167-8.
O'Brien C, Mahoney C, Tharion WJ, Sils IV, Castellani JW. Physiol Behav. 2007 Feb 28;90(2-3):301-7.
Passeri M, Cucinotta D, Bonati PA, Iannuccelli M, Parnetti L, Senin U. Int J Clin Pharmacol Res. 1990;10(1-2):75-9.
Penninx BW, Guralnik JM, Ferrucci L, Fried LP, Allen RH, Stabler SP. Am J Psychiatry. 2000 May;157(5):715-21.
Pingali U, Pilli R, Fatima N. Pharmacognosy Res. 2014 Jan;6(1):12-8.
Rai GS, Shovlin C, Wesnes KA. Curr Med Res Opin. 1991;12(6):350-5.
Rasmussen DD, Ishizuka B, Quigley ME, Yen SS. J Clin Endocrinol Metab. 1983 Oct;57(4):760-3.
Rebouche CJ. Ann N Y Acad Sci. 2004 Nov; 1033:30-41.
Rump TJ, Abdul Muneer PM, Szlachetka AM, Lamb A, Haorei C, Alikunju S, Xiong H, Keblesh J, Liu J, Zimmerman MC, Jones J, Donohue TM Jr, Persidsky Y, Haorah J. Free Radic Biol Med. 2010 Nov 30;49(10):1494-504.
Salvioli G, Neri M. Drugs Exp Clin Res. 1994;20(4):169-76.
Santos RF, Galduróz JC, Barbieri A, Castiglioni ML, Ytaya LY, Bueno OF. Pharmacopsychiatry. 2003 Jul;36(4):127-33.
Scholey A, Ossoukhova A, Owen L, Ibarra A, Pipingas A, He K, Roller M, Stough C. Psychopharmacology (Berl). 2010 Oct;212(3):345-56.
Smith AD, Smith SM, de Jager CA, Whitbread P, Johnston C, Agacinski G, Oulhaj A, Bradley KM, Jacoby R, Refsum H. PLoS One. 2010 Sep 8;5(9): e12244.
Tempesta E, Troncon R, Janiri L, Colusso L, Riscica P, Saraceni G, Gesmundo E, Calvani M, Benedetti N, Pola P. Int J Clin Pharmacol Res. 1990;10(1-2):101-7.
Tomassini V, Pozzilli C, Onesti E, Pasqualetti P, Marinelli F, Pisani A, Fieschi C. J Neurol Sci. 2004 Mar 15;218(1-2):103-8.
Triantafyllou NI, Nikolaou C, Boufidou F, Angelopoulos E, Rentzos M, Kararizou E, Evangelopoulos ME, Vassilopoulos D. Parkinsonism Relat Disord. 2008;14(4):321-5.
Vermeulen RC, Scholte HR. Psychosom Med. 2004 Mar-Apr;66(2):276-82.
Vogiatzoglou A, Refsum H, Johnston C, Smith SM, Bradley KM, de Jager C, Budge MM, Smith AD. Neurology. 2008 Sep 9;71(11):826-32.
Yao Z, Drieu K, Papadopoulos V. Brain Res. 2001 Jan 19;889(1-2):181-90.
Yoto A, Motoki M, Murao S, Yokogoshi H. J Physiol Anthropol. 2012 Oct 29;31:28.
Zhao MX, Dong ZH, Yu ZH, Xiao SY, Li YM. Zhong Xi Yi Jie He Xue Bao. 2012 Jun;10(6):628-34.
BioMeric Advanced
Related Products