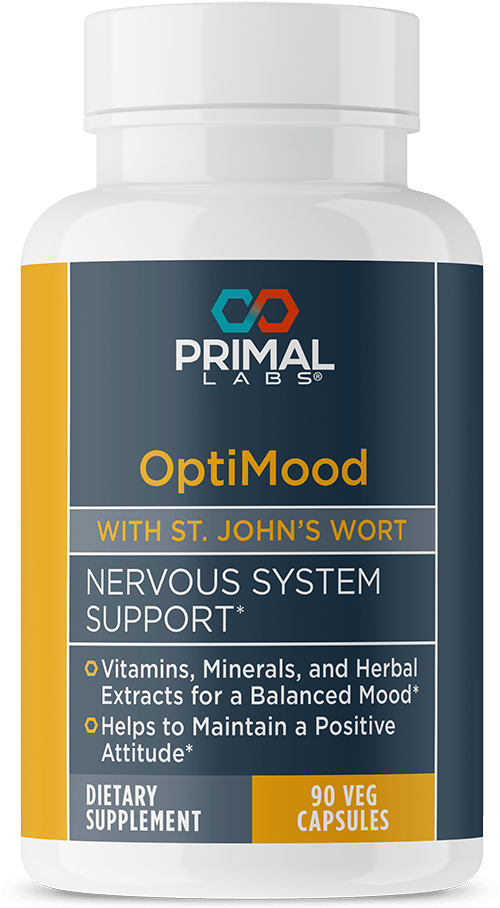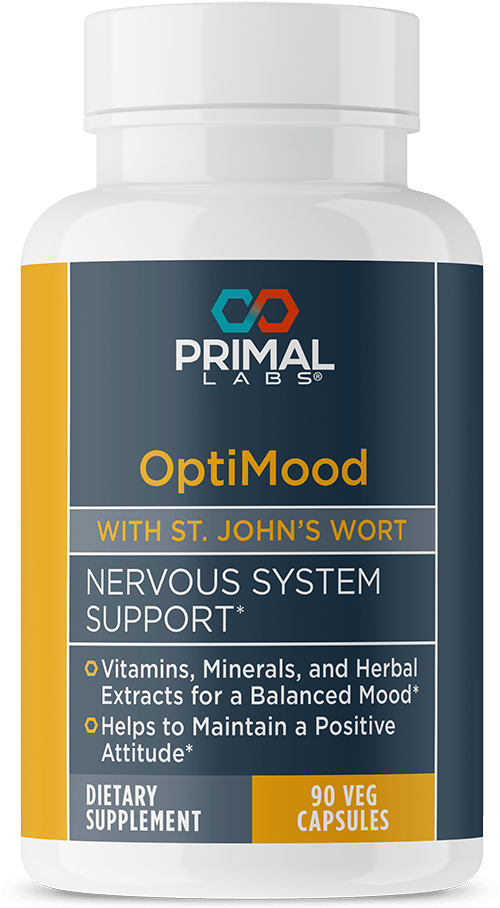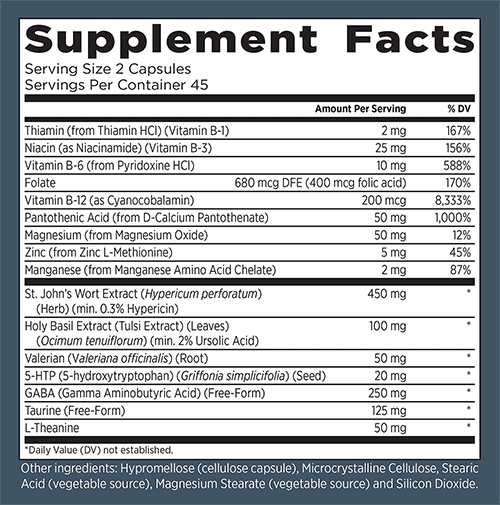 OptiMood
OptiMood is a nutritional supplement that has both nutrients and herbal extracts that aid in the support of a healthy nervous system and a positive, balanced mood state.*
Brighten your moods and your outlook the natural way
If you want to feel brighter, happier and more cheerful, then you'll want to take OptiMood.
This unique nutritional supplement has both nutrients and herbal extracts that aid in the support of a healthy nervous system and a positive, balanced mood state.
One of its key ingredients is St. John's Wort, the fastest growing herbal mood booster on shelves today according to Psychology Today.
Scientists report that St. John's Wort may regulate brain chemicals like serotonin and monoamine oxidase that are vital for healthy moods.
OptiMood also includes other natural mood enhancers like GABA, Taurine, Holy Basil, Valerian and 5-HTP—all to give you positive, upbeat moods.
Serving Size: 2 Capsules
Servings Per Container: 45
Directions: Take 2 capsules daily with food.
Thiamin (from Thiamin HCl) (Vitamin B-1)
2 mg
167%
Niacin (as Niacinamide) (Vitamin B-3)
25 mg
156%
Vitamin B-6 (from Pyridoxine HCI)
10 mg
588%
Folate
680 mcg DFE (400 mcg folic acid)
170%
Vitamin B-12 (as Cyanocobalamin)
200 mcg
8,333%
Pantothenic Acid (from D-Calcium Pantothenate)
50 mg
1,000%
Magnesium (from Magnesium Oxide)
50 mg
12%
Zinc (from Zinc L-Methionine)
5 mg
45%
Manganese (from Manganese Amino Acid Chelate)
2 mg
87%
St. John's Wort Extract (
Hypericum perforatum
)
(Herb) (min 0.3% Hypericin)
450 mg
*
Holy Basil Extract (Tulsi Extract) (Leaves) (Ocimum tenuiflorum) (min. 2% Ursolic Acid)
100 mg
*
Valerian (Valeriana officinalis) (Root) (4:1 Concentrate)
50 mg
*
5-HTP (5-hydroxytryptophan) (Griffonia simplicifolia) (Seed)
20 mg
*
GABA (Gamma Aminobutyric Acid) (Free-Form)
250 mg
*
Taurine (Free-Form)
125 mg
*
*Daily Value (DV) not established.
Other Ingredients: Hypromellose (cellulose capsule), Microcrystalline Cellulose, Stearic Acid (vegetable source), Magnesium Stearate (vegetable source) and Silicon Dioxide.