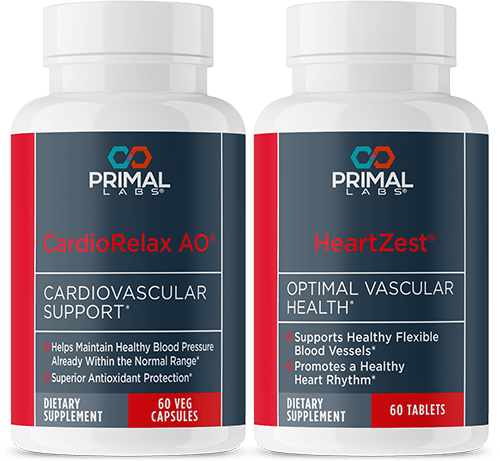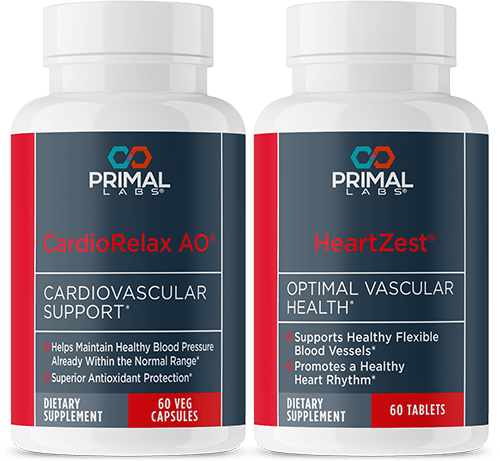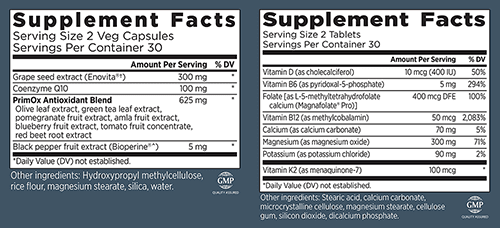 HeartZest and CardioRelax
Maintaining healthy homocysteine levels is important to keeping arteries flexible. HeartZest's trio of B vitamins are critical for proper homocysteine metabolism. HeartZest's 2 primary ingredients - Vitamins D3 and K2 - help your body direct the calcium from your arteries to your bones.*

CardioRelax AO: French secret to long-life - 5000% more powerful than Vitamin C. Nitric oxide allows your blood vessels to relax and stretch, giving the blood more space to move. And CardioRelax AO contains 9 more powerful anti-oxidants.*
HeartZest and CardioRelax AO Package
HeartZest:
Your arteries sing "Hallelujah!"...as you absorb the 7 nutrients they've been waiting for
You can almost hear your arteries shout "at last!"

They could have been waiting years for you to ingest HeartZest's 7 vital nutrients, which...

Help maintain flexible arteries*
Support optimal calcium distribution*
Promote healthy blood flow*

Maintaining healthy homocysteine levels is important to keeping arteries flexible. HeartZest's trio of B vitamins are critical for proper homocysteine metabolism.*

HeartZest's 2 primary ingredients - Vitamins D3 and K2 - help your body direct the calcium from your arteries to your bones. Vitamin K2 is very rare - most abundant in organ meats.*

And if you're like most people, you're not eating much of that. You may already be taking Vitamin D - but are you getting the right kind?

Many supplements use the inferior D2, but we formulated HeartZest to contain the most absorbable form of Vitamin D (D3).

Also joining these blood vessel nutrients are Potassium and Magnesium. They balance the sodium levels in your bloodstream and help relax your blood vessels.*

And HeartZest contains Vitamins B6, B12 and Folic Acid. Together these help your blood vessels remain healthy and flexible.* But don't take our word for it. See for yourself.

These ingredients are all-natural. And if you don't feel any different, you can return the empty bottle. You get a full refund.


CardioRelax AO:
French secret to long-life - 5000% more powerful than Vitamin C
They indulge in cheese, croissants and wine.

However, the French still live 42% longer than the global average. And there's one area, in the Midi-Pyrenees, where they live the longest.

Their amazing secret thrives in the region's grapes. Astonishingly high in procyanidins - an anti-oxidant 5000% more powerful than Vitamin C - these grapes increase the activation of nitric oxide in your blood stream.*

Nitric oxide allows your blood vessels to relax and stretch, giving the blood more space to move.

And CardioRelax AO contains 9 more powerful anti-oxidants - including our PrimOx blend, from the 5 most potent fruits and vegetables. Together these ingredients kill the free-radicals which can affect your organs.*

They help blood flow through the tiniest capillaries to your eyes, heart and kidneys.*

You also experience the benefits of heart-healthy Coenzyme Q10, which we lose as we age. This provides vital energy to you cells, needed to support heart tissue.*

Why not try it? If you don't feel a bit of difference, return the empty bottle. You get a full refund. No questions asked.
CardioRelax AO – Ref.
HeartZest Ref.
Related Products