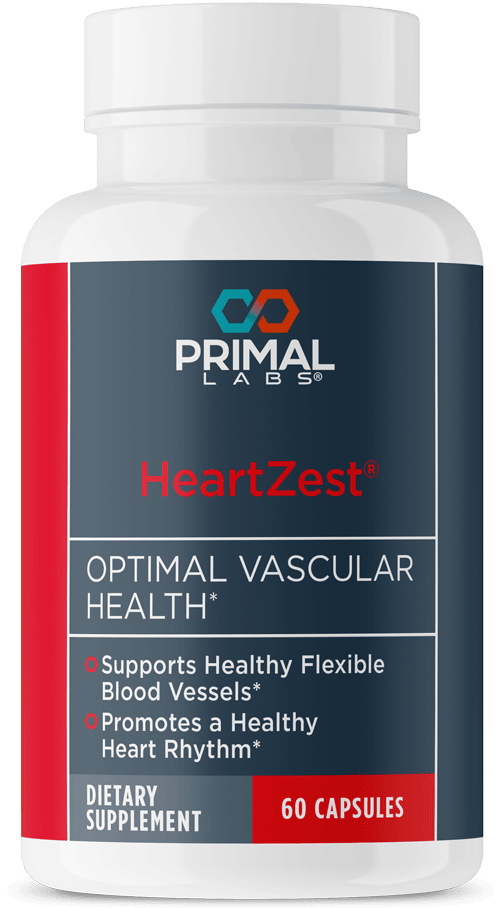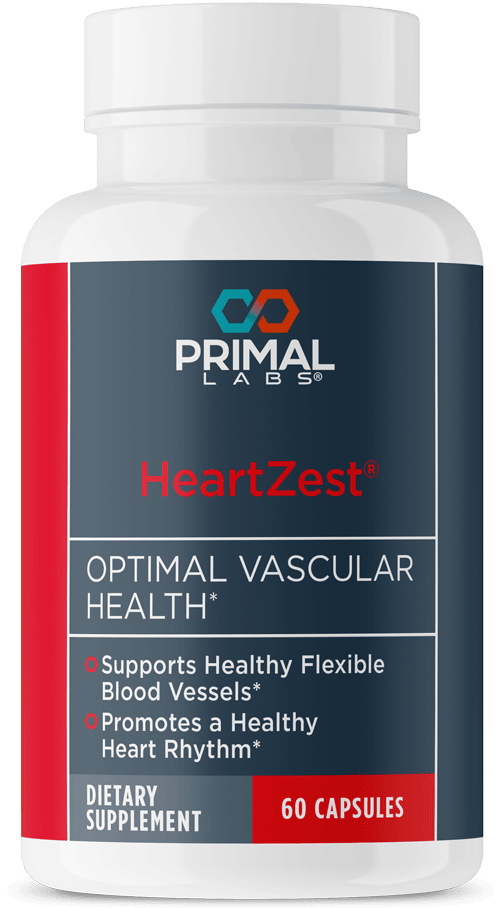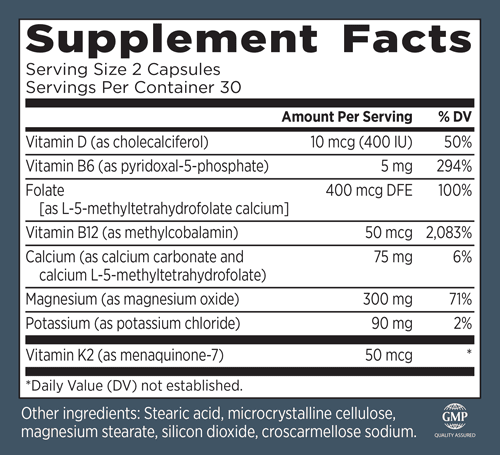 HeartZest
HeartZest provides the key vitamins and minerals for optimal vascular health. Vitamins K2 and D3 work together to influence healthy calcium distribution, and the minerals calcium and magnesium support a healthy heart rhythm. The premium complex of B vitamins included in this formula promotes the metabolism of homocysteine to maintain healthy levels already within the normal range.*
Your arteries sing "Hallelujah!"...as you absorb the 7 nutrients they've been waiting for
You can almost hear your arteries shout "at last!"

They could have been waiting years for you to ingest HeartZest's 7 vital nutrients, which...
Help maintain flexible arteries*
Support optimal calcium distribution*
Promote healthy blood flow*
Maintaining healthy homocysteine levels is important to keeping arteries flexible. HeartZest's trio of B vitamins are critical for proper homocysteine metabolism*

HeartZest's 2 primary ingredients - Vitamins D3 and K2 - help your body direct the calcium from your arteries to your bones.* Vitamin K2 is very rare - most abundant in organ meats. And if you're like most people, you're not eating much of that.

You may already be taking Vitamin D - but are you getting the right kind? Many supplements use the inferior D2, but we formulated HeartZest to contain the most absorbable form of Vitamin D (D3).

Also joining these blood vessel nutrients are Potassium and Magnesium. They balance the sodium levels in your bloodstream and help relax your blood vessels.*

And HeartZest contains Vitamins B6, B12 and Folic Acid. Together these help your blood vessels remain healthy and flexible.*

But don't take our word for it. See for yourself. These ingredients are all-natural. And if you don't feel any different, you can return the empty bottle. You get a full refund.

Serving Size: 2 Capsules
Servings Per Container: 30
Directions: Adults take 2 capsules once daily.
Vitamin D (as cholecalciferol)
10 mcg (400 IU)
50%
Vitamin B6 (as pyridoxal-5-phosphate)
5 mg
294%
Folate
[as L-5-methyltetrahydrofolate calcium]
400 mcg DFE
100%
Vitamin B12 (as methylcobalamin)
50 mcg
2,083%
Calcium (as calcium carbonate)
70 mg
5%
Magnesium (as magnesium oxide)
300 mg
71%
Potassium (as potassium chloride)
90 mg
2%
Vitamin K2 (as menaquinone-7)
50 mcg
*
*Daily Value (DV) not established.
Other Ingredients: Stearic acid, calcium carbonate, microcrystalline cellulose, magnesium stearate, cellulose gum, silicon dioxide, dicalcium phosphate, croscarmellose sodium.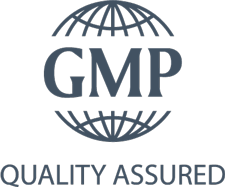 Submit your review for HeartZest
Related Products