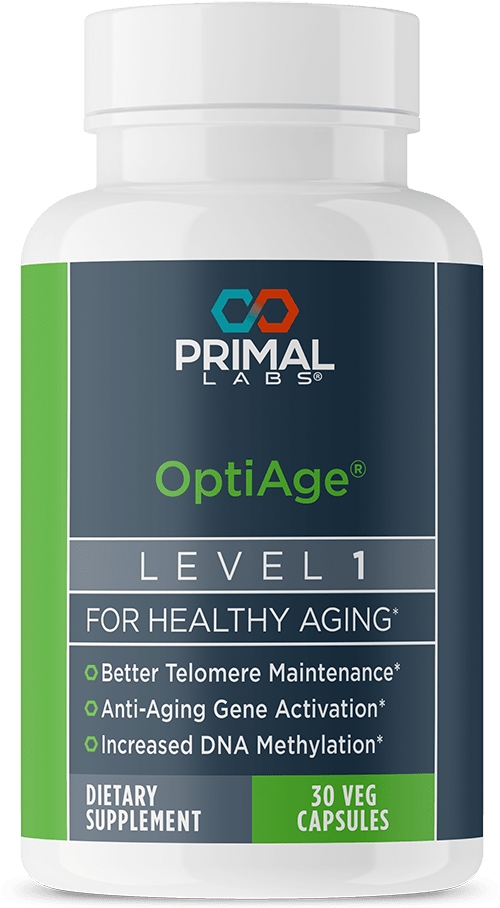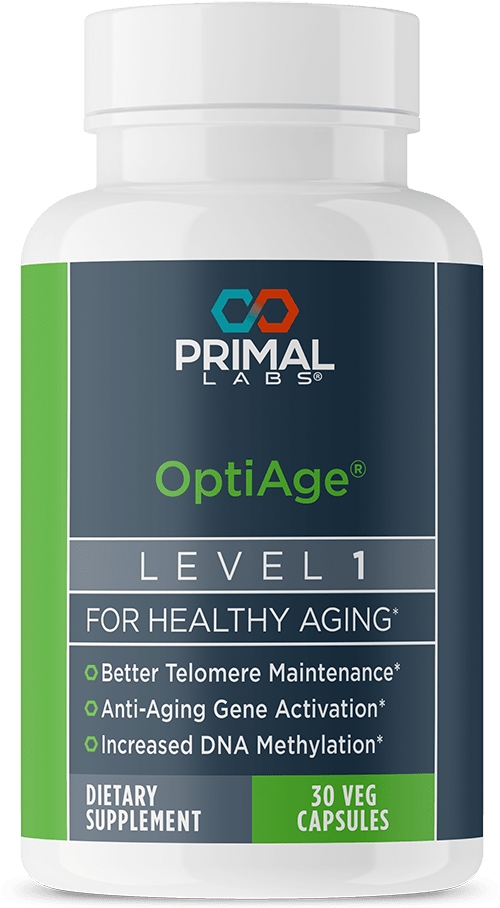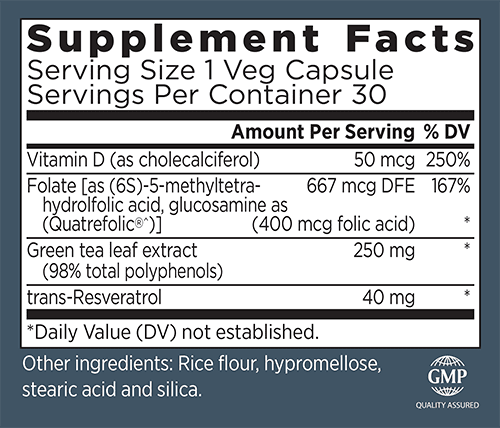 OptiAge Level 1
OptiAge Level 1 provides the key nutrients needed for combating the effects of aging at the cellular level. Clinical research shows that having better vitamin D status is correlated with longer telomeres, which are a marker of biological aging. Trans- Resveratrol activates anti-aging genes called sirtuins that have been associated with greater lifespans in many organisms. 5-methyltetrahydrofolate and green tea leaf extract support DNA health through increased methylation and reduced free radicals.*
The four key ingredients to staying younger and healthier for longer
Creams and serums may reduce your visible aging. But to really improve your longevity and health you need four essential ingredients:

1. Vitamin D3: Promotes longer telomeres. Shorter telomeres are a marker of your biological aging. In one study, Vitamin D was shown to reduce telomere aging equivalent to five years.*

2. Trans-resveratrol: Activates sirtuins – your anti-aging genes. Sirtuins are associated with greater lifespans in many organisms – in some cases up to 70%. What's more, Trans-resveratrol is clinically documented to support your cardiovascular health, have an antioxidant effect, reduce inflammation and more.*

3. 5-methyltetrahydrofolate: Promotes healthy DNA methylation. Studies have shown better health where there is normal DNA methylation. 5-methyltetrahydrofolate helps keep your DNA – and you – healthy.*

4. Green tea leaf extract: Best known for its antioxidant properties, green tea leaf extract is recognized for maintaining overall health.*

OptiAge Level 1 contains these four crucial ingredients to help fight the negative effects of aging at the cellular level.* Start improving your health and longevity today!

And for the most complete anti-aging support available, be sure to use OptiAge Level 1 in conjunction with OptiAge Level 2.* See here for more information.

Related Products