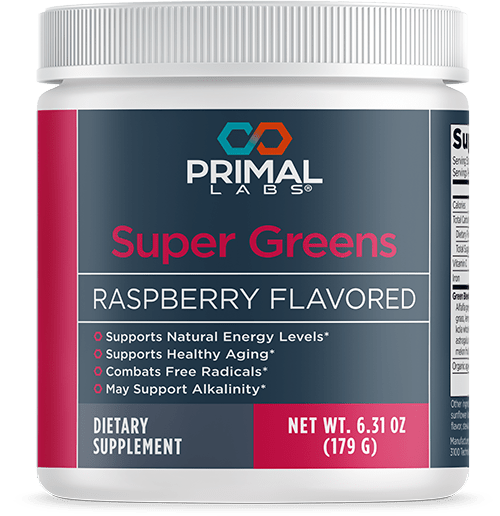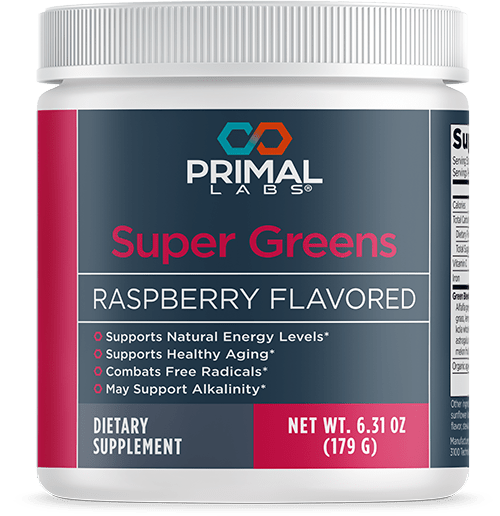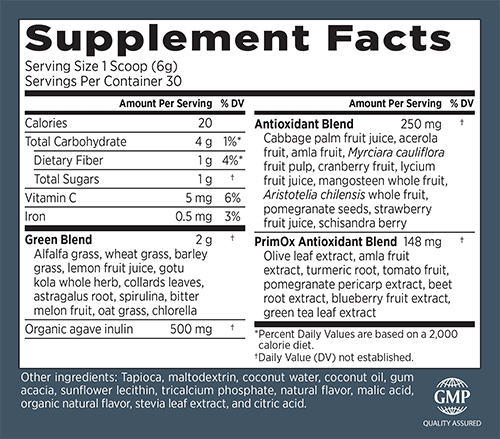 Super Greens (Raspberry)
Supports natural energy levels
Supports healthy aging
Combats free radicals
May support alkalinity
Primal Labs Super Greens Raspberry
For good health the human body requires a slightly alkaline pH of 7.35 to 7.45. But the common western diet leans acidic, potentially impacting inflammatory responses, bone health, and oxidative effects from free radicals.
To help counter this acidity, Primal Labs created Super Greens, a delicious raspberry-flavored superfoods drink that provides a host of phytonutrients, enzymes and antioxidants, along with protective zanthones, carotenoids, flavonoids and essential amino acids.
Super Greens mixes easily with water or may be added to a smoothie.
Super Greens helps promote comfortable joints and increased energy, while supporting a healthy body chemistry that resists the effects of aging.
Supports natural energy levels
Supports healthy aging
Combats free radicals
May support alkalinity
Serving Size: 1 Scoop (6g)
Servings Per Container: 30
Directions: Mix one scoop with 8 ounces of cold water.
Total Carbohydrate
4 g
1%*
Green Blend
Alfalfa grass, wheat grass, barley grass, lemon fruit juice, gotu kola whole herb, collards leaves, astragalus root, spirulina, bitter melon fruit, oat grass, chlorella
2 g
†
Organic agave inulin
500 mg
†
Antioxidant Blend Cabbage palm fruit juice, acerola fruit, amla fruit, Myrciara cauliflora fruit pulp, cranberry fruit, lycium fruit juice, mangosteen whole fruit, Aristotelia chilensis whole fruit, pomegranate seeds, strawberry fruit juice, schisandra berry
250 mg
†
PrimOx Antioxidant Blend
Olive leaf extract, amla fruit extract, turmeric root, tomato fruit, pomegranate pericarp extract,beet root extract, blueberry fruit extract, green tea leaf extract
148 mg
†
*Percent Daily Values are based on a 2,000 calorie diet.
†Daily Value (DV) not established.
Other Ingredients: Tapioca, maltodextrin, coconut water, coconut oil, gum acacia, sunflower lecithin, tricalcium phosphate, natural flavor, malic acid, organic natural flavor, stevia leaf extract, and citric acid.