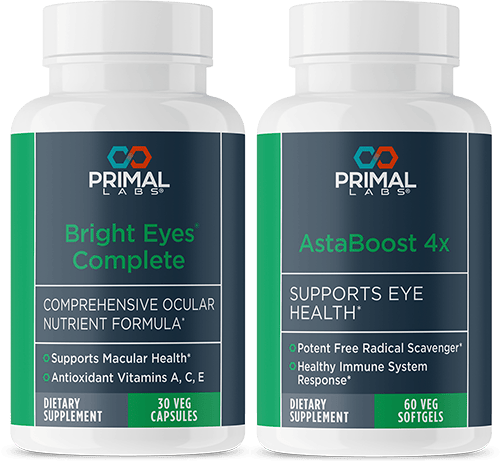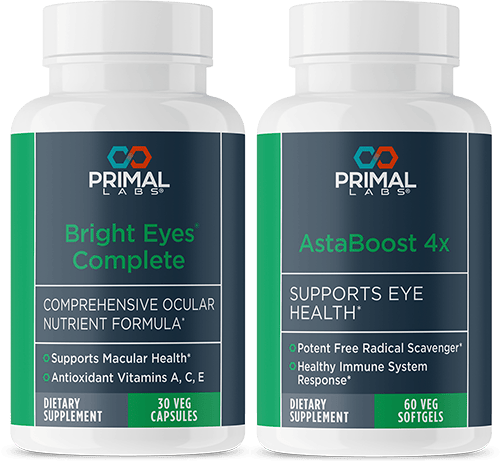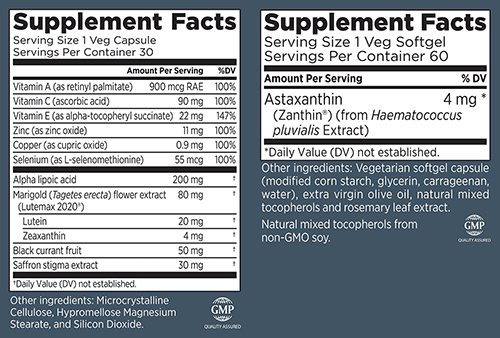 Bright Eyes Complete and AstaBoost 4x
Bright Eyes Complete guarantees your eyes the necessary 10mg of available Lutein. Whats more, its a powerful anti-oxidant with a potent mix of Green Tea Extract, Alpha Lipoic AcidandGrape Seed Extract. Together they fight the free radicals that run rampant behind your eyes.

AstaBoost 4x is a naturally occurring carotenoid with a unique structure that is known to be a potent free radical scavenger.* Because AstaBoost 4x freely crosses the blood-brain and blood-retina barriers, it can neutralize free radicals in the eye and central nervous system.* Scientific studies also demonstrate that astaxanthin can support the body's healthy and balanced immune system responses.* This product featuresZanthin, which can help to support overall ocular health and promote a healthy nervous system.
Bright Eyes Complete®
Improved clarity, less eye strain and unparalleled protection against age-related visual decline

Now you can get more visual clarity, reduced eye fatigue, and superior support for long-term eye health with Bright Eyes Complete -- our custom vision formula that provides research-backed protection against oxidative and environmental stresses.

Here's why that's important…

As you age, your eyes may begin to suffer from nutritional deficiencies, oxidation, and eye strain from the blue light of computers, smartphones and CFL bulbs.

This assault can impact the macula, the sensitive area of the retina that is critical for clear vision. And it certainly contributes to daily eye fatigue.

Bright Eyes Complete to the rescue

Our advanced formula incorporates the key ingredients the National Eye Institute recommends for long-term eye health, especially in support of the critical macula zone, plus some additional enhancements.

The landmark AREDS(2) study of 4,203 subjects ages 50 to 85 found that a nutrient formula of vitamins C and E, the carotonoids lutein and zeaxanthin, plus the minerals zinc and copper helped protect against age-related decline of the macula.

And we doubled the carotonoids and added antioxidants

Unlike other ARED(2) formulas, Bright Eyes Complete contains double the study dosage of the key carotonoid ingredients, lutein and zeaxanthin– to help you quickly and clearly identify objects in low light, while reducing eye strain.

Bright Eyes Complete also contains Vitamin A, for promoting healthy night vision. Selenium, to help neutralize free radicals. And Alpha Lipoic Acid, the universal antioxidant that recycles Vitamins A, C, and E, for maximum cellular protection. Plus, black current anthocyanins, to help maintain healthy ocular pressure. And that's not all…

Two lines better on the Snellen Test

With Bright Eyes Complete, you also get Saffron Stigma, the nutrient that, in a study of participants with macular concerns, showed two lines of improvement in the Snellen Eye Chart test in just 90 days. And our formula has 50% more of this safe ingredient compared to the study dose.

The research is clear. If you want improved visual acuity, reduced eye strain, and unparalleled protection against age-related visual decline, get Bright Eyes Complete today!
AstaBoost 4x
Masterful molecule means sharper vision and protection from age-related vision loss

A red pigment molecule found in microalgae called Astaxanthin is proving to be a powerful ally for healthy eyes and clear vision.

Scientists discovered Astaxathin is a natural sunscreen for marine plants due to its ability to absorb solar radiation. Now, research shows it also offers powerful protection against free radicals which can affect your eyes.

When taken alongside other key vision nutrients, 4 mg of Astaxanthin has been shown in the CARMIS study to improve visual sharpness…contrast sensitivity and improved retinal function.

Even better, you can now get a premium vision boosting, eye protecting Zanthin® Natural Astaxanthin in AstaBoost 4X. Zanthin is a unique stable, naturally sources and cleanly extracted Astaxanthin, the best we've found worldwide. All to assure healthier eyes and sharper vision for you.
Bight Eyes Complete®
Serving Size: 1 Veg Capsule
Servings Per Container: 30
Directions: Adults take 1 capsule daily with a meal.
Vitamin A (as retinyl palmitate)
900 mcg RAE
100%
Vitamin C (ascorbic acid)
90 mg
100%
Vitamin E (as alpha-tocopheryl succinate)
22 mg
147%
Zinc (as zinc oxide)
11 mg
100%
Copper (as cupric oxide)
0.9 mg
100%
Selenium (as L-selenomethionine)
55 mcg
100%
Alpha lipoic acid
200 mg
†
Marigold (
Tagetes erecta
) flower extract
(Lutemax 2020®)
80 mg
†
Black currant fruit
50 mg
†
Saffron stigma extract
30 mg
†
†Daily Value (DV) not established.
Other Ingredients: Microcrystalline Cellulose, Hypromellose Magnesium Stearate, and Silicon Dioxide
Not manufacured with wheat, gluten, milk, egg, fish, shelfish, or tree nut ingredients. Produced in a GMP facility that processes other ingredients containing these allergens.
Lutemax 2020® is a registered product of Omniactive Health Technologies Limited.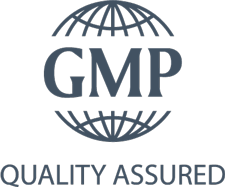 Astaboost 4x
Serving Size: 1 Veg Softgel
Servings Per Container: 60
Directions: Take 1 softgel one to two times daily with food.
Astaxanthin (Zanthin®†) (from Haematococcus pluvialis Extract)
4 mg
*
* Daily Value (DV) not established.
Other Ingredients: Vegetarian softgel capsule (modified corn starch, glycerin, carrageenan, water), extra virgin olive oil, natural mixed tocopherols and rosemary leaf extract.
Natural mixed tocopherols from non-GMO soy.
† Zanthin® is a registered trademark of Valensa International.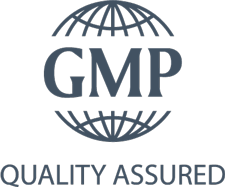 Submit your review for Bright Eyes Complete and AstaBoost 4x
Related Products