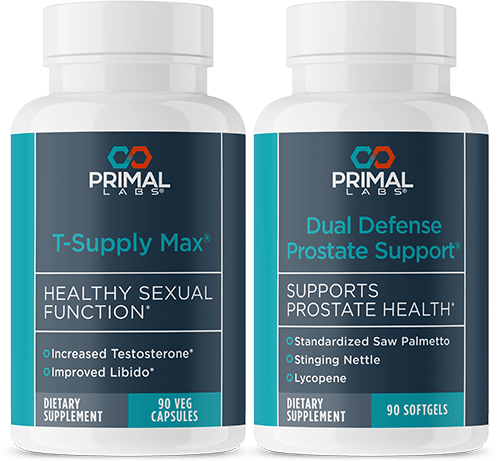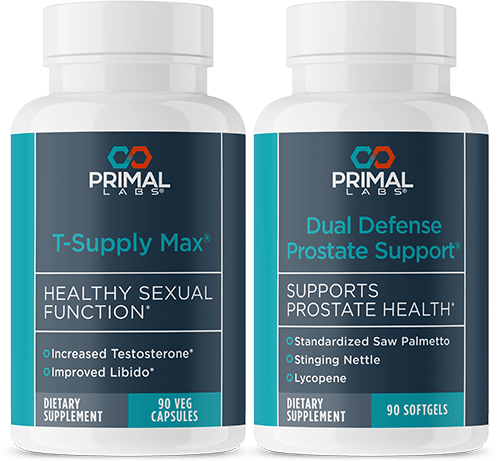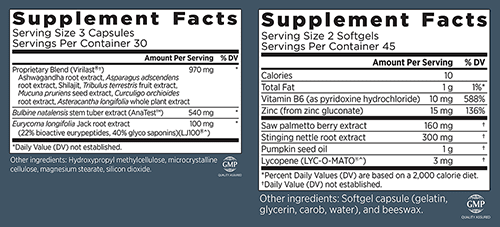 T-Supply Max and Dual Defense Prostate Support
T-Supply Max provides an herbal approach to increasing testosterone and improving male libido and performance.

Dual Defense Prostate Support is a blend of standardized extracts of herbs and nutrients. Saw Palmetto has been shown in clinical studies to support prostate function.* We have provided additional nutritional support with Pumpkin Seed Oil, Zinc, Vitamin B-6, and Lycopene.
T-Supply Max

The Ancients' Secret to Being a Sexual Powerhouse

With the T-Supply Max triple whammy of nine, all natural, time honored ingredients …

… you give her everything she desires – and much more.

From the Indian Ayurvedic tradition, six herbs revered for their beneficial effects on male sexual health. Tested and documented to show positive effects on your:

Sexual desire*
Sexual function*
Sexual satisfaction*

Together these magical herbs work to:

Increase your 'man hormone' testosterone levels*
Support your circulation
Fuel sexual desire*
Relieve the occasional stress which can affect your sexual performance*
Next - from Indonesian and Malayan traditional medicine – is the potent Eurycoma longifolia.

As well as increasing your desire, Eurycoma longifolia also supercharges your energy and stamina … promotes blood circulation … and boosts your testosterone.*

Finally, Bulbine natalensis - a South African herb long used in traditional African medicine.

Preliminary research has shown positive results suggesting that using Bulbine natalensis may enhance your libido, increase your natural testosterone and reduce estrogen.*

Together for the first time ever, the eight herbs in T-Supply Max are guaranteed to skyrocket your sexual desire and performance.*

Put them to the test for yourself. And if you don't agree they're the best sex-boosters you've ever tried, we'll give you your money back.*


Dual Defense Prostate Support
Native Americans' prostate relieving secret
You cannot know the blessed relief...

...Not until you empty your bladder comfortably...stop getting up in the night...and free yourself from throbbing discomfort. Thank the Native Americans.

They were the first ones to use Saw Palmetto - the primary ingredient in this Dual Defense Prostate Support pill.

A natural anti-inflammatory, it helps relieve the pressure on your urinary tubes. A review of 44 studies found Saw Palmetto increases urinary flow at a rate of 14 milliliters per second.*

This amazing prostate relieving pill also contains Pumpkin Seed Oil, Zinc and Vitamin B6 to speed up the results.*

Pumpkin seed oil and zinc prevent the transformation of testosterone into dihydrotestosterone.* Testosterone is your man-hormone which helps maintain your muscle-mass and sexual energy. Yet it tends to plummet as you get older.

This Native American secret is guaranteed to deliver - right where you need help most. And you don't risk a single penny. So order today. If you don't feel overwhelming relief, you get a full refund, no questions asked.
T-Supply Max
Dual Defense Prostate Support
Related Products