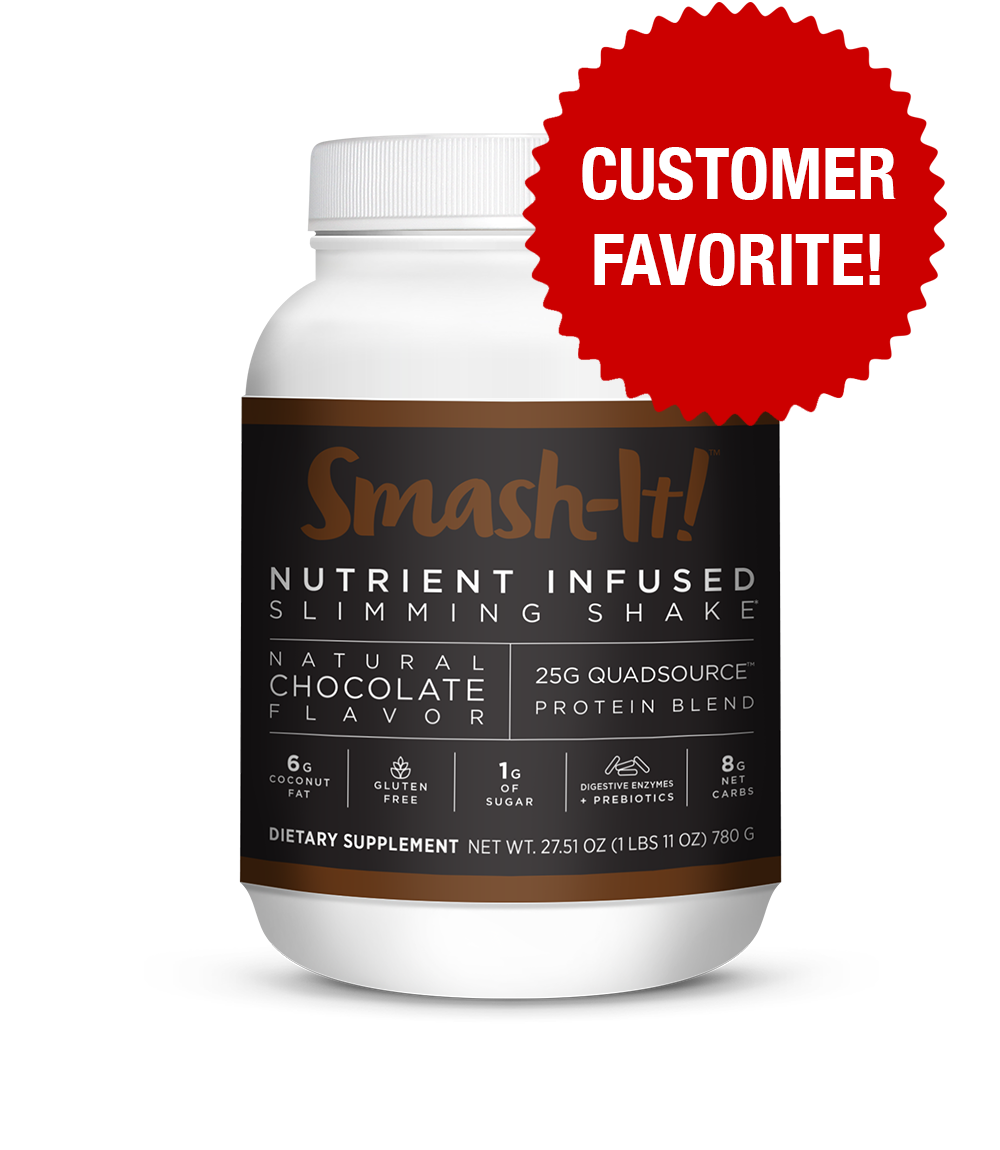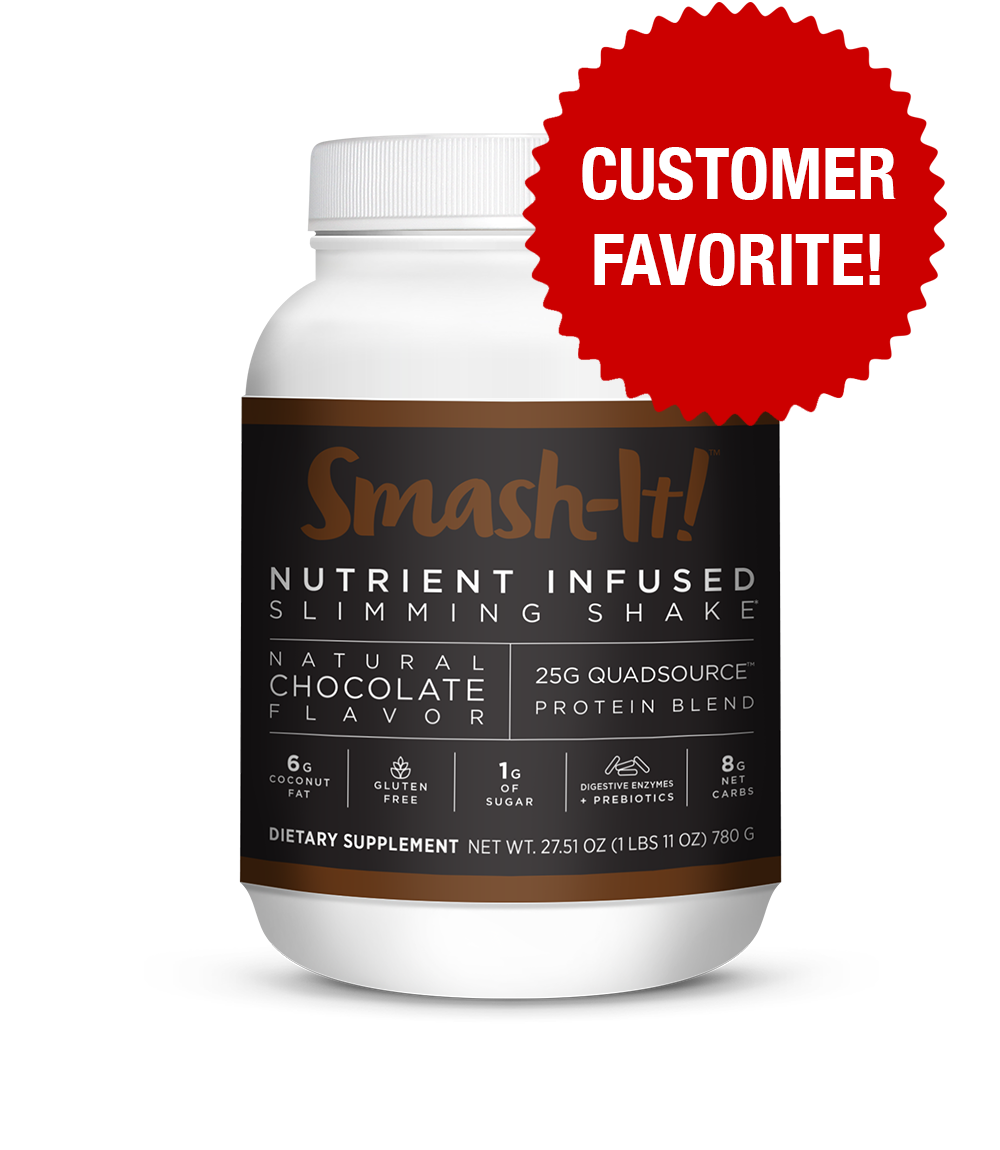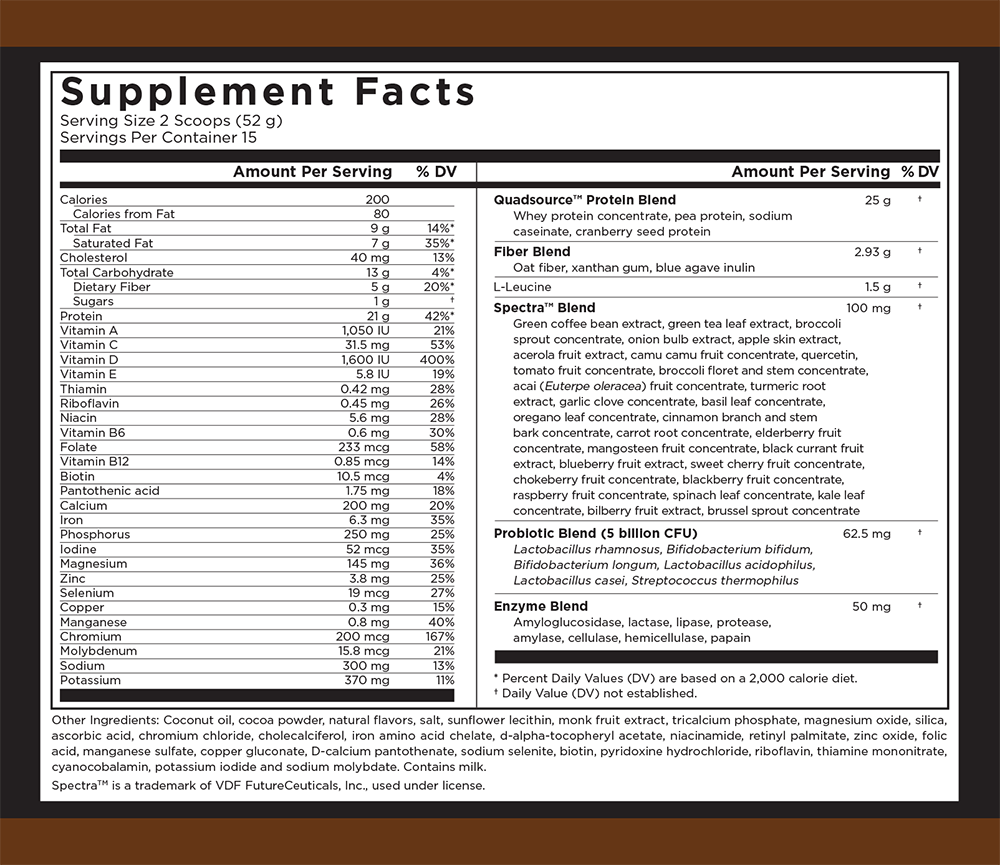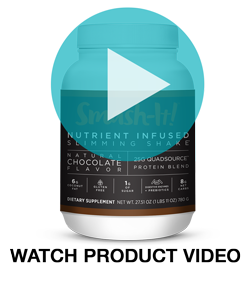 Smash-It! (Chocolate - 15 servings)
Smash-It! is a delicious high-protein, non-GMO and gluten-free nutrient infused shake scientifically formulated to help you fix "toxic" fat cells and manage your weight, support your already healthy blood pressure, and maintain healthy blood sugar.*

Smash-It! is your best choice to get leaner, healthier and stronger.*
Enter your email address if you'd like to be the first to know when we have more.
Why this is your best supplement to get leaner, healthier and stronger*

Fix "toxic" fat cells and manage your weight, support your already healthy blood pressure, and maintain healthy blood sugar.*

Smash-It! contains 25 grams of slow and fast-digesting QuadSource Protein Blend.

QuadSource is a mix of hormone-free whey, casein, pea, and cranberry seed proteins - all working together to help you:

Feel fuller – and for longer*
Curb your cravings*
Build and maintain lean body mass*

And with just 8 grams of low-glycemic net carbohydrates … only 1 gram of sugar … 5 grams of fiber … and 9 grams of MCT-rich healthy coconut fat … Smash-It! will:

"supercharge your fat burning ability and metabolism - all while boosting your heart health and supercharging your energy levels".*

What's more, to make Smash-It! the ultimate fat burning shake, it also contains the essential amino acid L-leucine.*

Hard to obtain through a regular diet, L-leucine is key in helping you minimize lean muscle loss - common while losing weight and aging.*

And it enhances your metabolism.*

But that's not all ...

In every serving of Smash-It! you also get the clinically studied Spectra blend. A powerful combination of 29 fruits, vegetables, spices, and herbs delivering targeted antioxidant protection against today's most harmful free radicals.*

And to ensure you get the maximum benefit …


… there's also two gut-soothing blends of probiotics and digestive enzymes. And prebiotic fiber.*

Together these keep your digestion smooth, enhance immune function and help you better digest nutrients.*

We guarantee Smash-It! Is your best choice to get leaner, healthier and stronger. Try it for yourself – if you don't agree, we'll give you your money back.*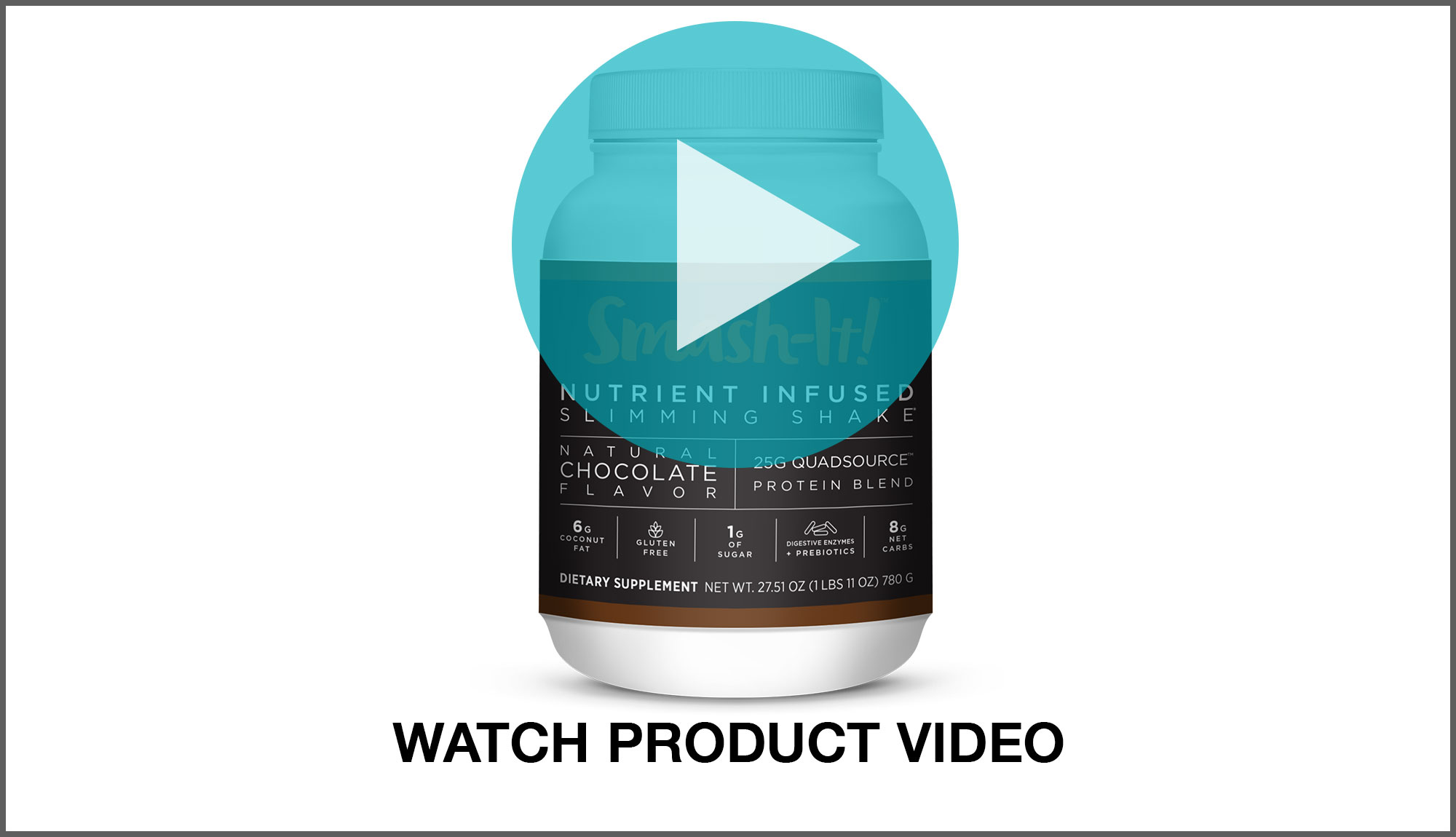 Serving Size: 2 Scoops (52 g)
Servings Per Container: 15
Directions: Add 2 scoops of Smash-It!® to 8-10 fl. oz. of ice cold water and mix vigorously until smooth. We recommend using a blender or shaker bottle with wire ball for best results. You may also use other cold liquids like almond milk or coconut milk for a smoother, creamier texture.

To ensure an accurate serving size, please use the scoop provided with your product. Fill the scoop and tap the bottom 3 to 4 times.
Pantothenic acid
1.75 mg
18%
Quadsource™ Protein Blend
Whey protein concentrate, pea protein, sodium caseinate, cranberry seed protein
25 g
†
Fiber Blend
Oat fiber, xanthan gum, blue agave inulin
2.93 g
†
L-Leucine
Whey protein concentrate, pea protein, sodium caseinate, cranberry seed protein
1.5 g
†
Spectra™ Blend Green coffee bean extract, green tea leaf extract, broccoli sprout concentrate, onion bulb extract, apple skin extract, acerola fruit extract, camu camu fruit concentrate, quercetin, tomato fruit extract, broccoli floret and stem concentrate, açaí (Euterpe oleracea) fruit concentrate, turmeric root extract, garlic clove concentrate, basil leaf concentrate, oregano leaf concentrate, cinnamon branch and stem bark concentrate, carrot root concentrate, elderberry fruit concentrate, mangosteen fruit concentrate, black currant fruit extract, blueberry fruit extract, sweet cherry fruit concentrate, chokeberry fruit concentrate, blackberry fruit concentrate, raspberry fruit concentrate, spinach leaf concentrate, kale leaf concentrate, bilberry fruit extract, brussel sprout concentrate
100 mg
†
Probiotic Blend (5 billion CFU) Lactobacillus rhamnosus, Bifidobacterium bifidum, Bifidobacterium longum, Lactobacillus acidophilus, Lactobacillus casei, Streptococcus thermophilus
62.5 mg
†
Enzyme Blend
Amyloglucosidase, lactase, lipase, protease, amylase, cellulase, hemicellulase, papain
50 mg
†
* Percent Daily Values (DV) are based on a 2,000 calorie diet..
† Daily Value (DV) not established.
Other Ingredients: Coconut oil, cocoa powder, natural flavors, salt, sunflower lecithin, monk fruit extract, tricalcium phosphate, magnesium oxide, silica, ascorbic acid, chromium chloride, cholecalciferol, iron amino acid chelate, d-alpha-tocopheryl acetate, niacinamide, retinyl palmitate, zinc oxide, folic acid, manganese sulfate, copper gluconate, D-calcium pantothenate, sodium selenite, biotin, pyridoxine hydrochloride, riboflavin, thiamine mononitrate, cyanocobalamin, potassium iodide and sodium molybdate. Contains milk.
Spectra™ is a registered trademark of VDF FutureCeuticals, Inc, used under license.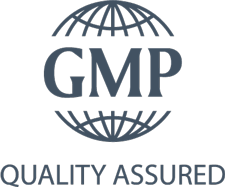 Also Available In