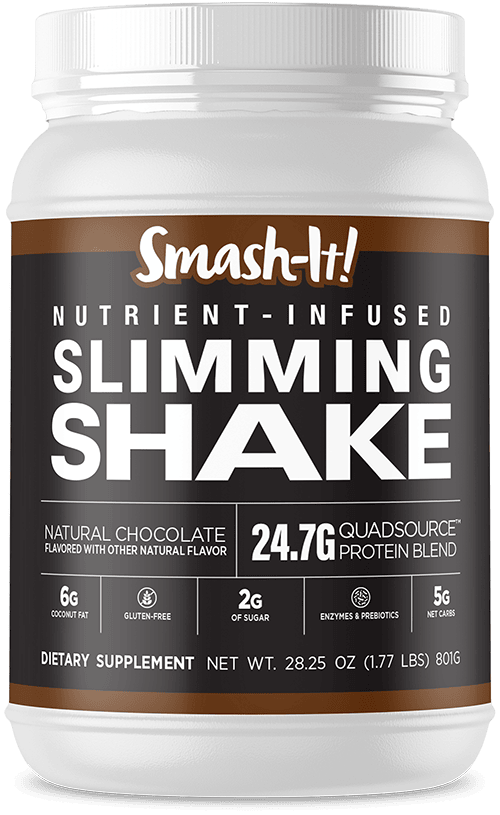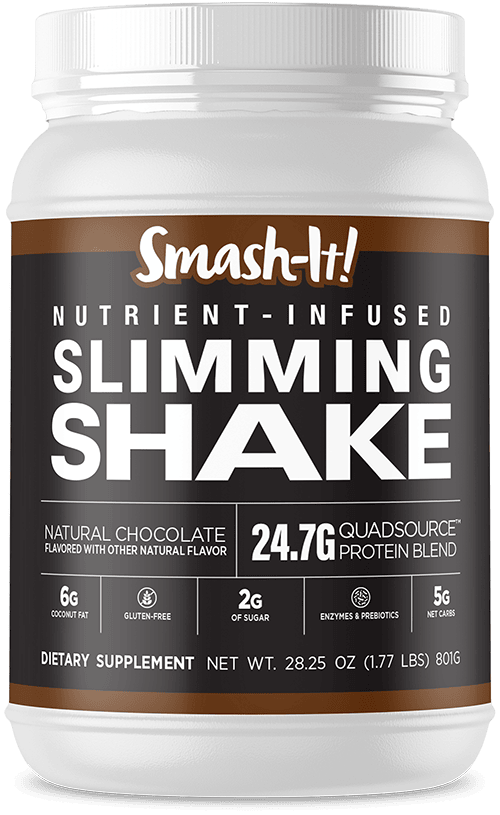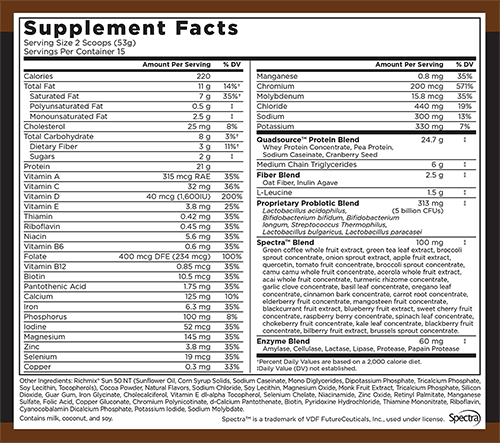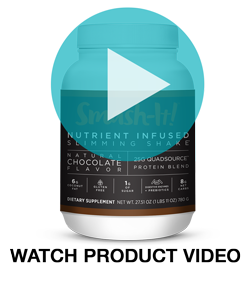 Smash-It! (Chocolate - 15 servings)
Smash-It! is a delicious high-protein, non-GMO and gluten-free nutrient infused shake scientifically formulated to help you fix "toxic" fat cells and manage your weight, support your already healthy blood pressure, and maintain healthy blood sugar.*

Smash-It! is your best choice to get leaner, healthier and stronger.*
Why this is your best supplement to get leaner, healthier and stronger*

Fix "toxic" fat cells and manage your weight, support your already healthy blood pressure, and maintain healthy blood sugar.*

Smash-It! contains 23.5 grams of slow and fast-digesting QuadSource Protein Blend.

QuadSource is a mix of hormone-free whey, casein, pea, and cranberry seed proteins - all working together to help you:

Feel fuller – and for longer*
Curb your cravings*
Build and maintain lean body mass*

And with just 8 grams of low-glycemic net carbohydrates … only 1 gram of sugar … 5 grams of fiber … and 9 grams of MCT-rich healthy coconut fat … Smash-It! will:

"supercharge your fat burning ability and metabolism - all while boosting your heart health and supercharging your energy levels".*

What's more, to make Smash-It! the ultimate fat burning shake, it also contains the essential amino acid L-leucine.*

Hard to obtain through a regular diet, L-leucine is key in helping you minimize lean muscle loss - common while losing weight and aging.*

And it enhances your metabolism.*

But that's not all ...

In every serving of Smash-It! you also get the clinically studied Spectra blend. A powerful combination of 29 fruits, vegetables, spices, and herbs delivering targeted antioxidant protection against today's most harmful free radicals.*

And to ensure you get the maximum benefit …


… there's also two gut-soothing blends of probiotics and digestive enzymes. And prebiotic fiber.*

Together these keep your digestion smooth, enhance immune function and help you better digest nutrients.*

We guarantee Smash-It! Is your best choice to get leaner, healthier and stronger. Try it for yourself – if you don't agree, we'll give you your money back.*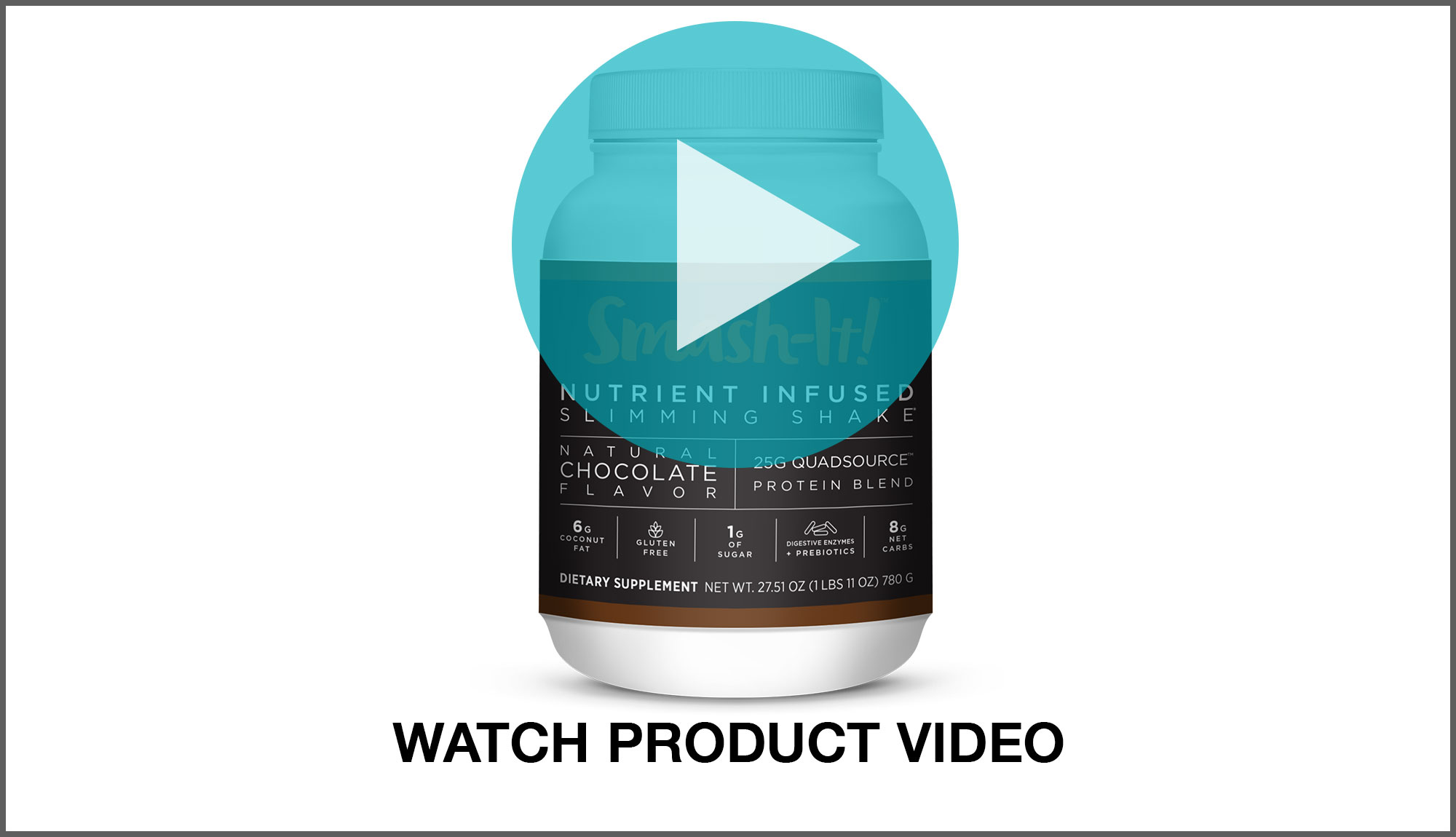 Serving Size: 2 Scoops approximate (52 g/1.8 oz)
Servings Per Container: 15
Directions: Add 2 scoops of Smash-It!® to 8 - 10 fl. oz. of ice cold water and mix vigorously until smooth. We recommend using a blender or shaker bottle with wire ball for best results. You may also use other cold liquids like almond milk or coconut milk for a smoother, creamier texture.
To ensure an accurate serving size, please use the scoop provided with your product. Fill the scoop and tap the bottom 3 or 4 times.
Polyunsaturated Fat
0.5 g
**
Monounsaturated Fat
2.5 g
**
Total Carbohydrate
15 g
5%
Vitamin A
315 mcg RAE
35%
Vitamin D
40 mcg (1,600IU)
200%
Folate
400 mcg DFE (as Folic acid 234 mcg)
100%
Pantothenic Acid
1.75 mg
35%
Quadsource™ Protein Blend Whey Protein Concentrate, Pea Protein, Sodium Caseinate, Cranberry Flour (Vaccinium macrocarpon) Seed Powder
23.5 g
†
MCT
(Medium Chain Triglycerides) (from coconut sources)
6 g
**
Fiber Blend
Oat Fiber, Xanthan Gum, Inulin Powder Agave (Organic)
2.9 g
**
Proprietary Probiotic Blend 5 Billion CFU/g per Serving† L. acidophilus, B. bifidum, B. longum, S. Thermophilus, L. bulgaricus, L. paracasei
313 mg
**
Spectra™ Blend Green Tea (Camellia sinesis) Leaf Extract, Total Orac Blend [Broccoli (Brassica oleracea italica) Sprout Seed, Onion (Allium cepa alliaceae) Bulb Extract, Tomato (Lycopersicon esculentum) Tomato Fruit, Broccoli (Brassica oleracea italica) Floret and stems, Carrot (Daucus carota sativa) Root, Spinach (Spinacia oleracea) Leaf, Kale (Brassica oleracea acephala) Leaf, Brussel Sprout (Brassica oleracea gemmifera) Edible Head, Coffea arabica (Coffea arabica) Coffee Cherry Extract, Acerola (Malpighia glabra linne) Fruit Extract, Camu Camu (Myrciaria dubia) Fruit, Quercetin (Sophora japonica L.) Flower, Acai (Euterpe oleracea mart) Fruit, Mangosteen (Garcinia mangostana L.) Fruit, Green Tea (Camellia sinensis) Leaf Extract, Apple (Malus domestica) Skin of Apple Fruit Extract, Turmeric (Curcuma longa L.) Root Concentrate, Garlic (Allium sativum) Clove, Basil (Ocimum basilicum) Leaf, Oregano (Origanum vulgare) Leaf, Cinnamon (Cinnamomum) Branch and stem bark, Elderberry (Sambucus nigra) Fruit Extract]
100 mg
**
Enzyme Blend
Amylase, Cellulase, Lactase, Lipase, Protease, Papain Protease
60 mg
**
*Percent Daily Value based on a 2,000 calorie diet.
**%Daily Value (DV) not established.
† At time Manufactured.
Other Ingredients: Richmix® Sun 50 NT (Sunflower Oil, Corn Syrup Solids, Sodium Caseinate, Mono Diglycerides, Dipotassium Phosphate, Tricalcium Phosphate, Soy Lecithin, Tocopherols), Cocoa Powder, Natural Flavors, Sea Salt, Sodium Chloride, Soy Lecithin, Magnesium Oxide, Monk Fruit Extract, Tricalcium Phosphate, Silicon Dioxide, Guar Gum, Iron Glycinate, Cholecalciferol, Vitamin E dl-alpha Tocopherol, Selenium Chelate, Niacinamide, Zinc Oxide, Retinyl Palmitate, Manganese Sulfate, Folic Acid Dicalcium Phosphate, Copper Gluconate, Chromium Polynicotinate, d-Calcium Pantothenate, Biotin Dicalcium Phosphate, Pyridoxine HCl, Thiamine Mononitrate, Riboflavin, Cyanocobalamin Dicalcium Phosphate, Potassium Iodide, Sodium Molybdate.
Contains: Milk & Tree Nuts and Soy
Spectra™ is a trademark of VDF FutureCeuticals, Inc., used under license.
Smash-It!® is not intended to be your sole source of calories, but rather taken 1-2 times daily as part of an overall healthy eating plan.
CAUTION: Before using this product, or beginning any weight management program, it is advisable to consult your healthcare practitioner, especially if you are pregnant or nursing, on medication, or have a medical condition. For best results, a healthy weight-loss program should also include modest caloric intake, a healthy diet, and regular physical activity.
STORE IN A COOL, DRY PLACE. ENSURE THE BOTTLE IS TIGHTLY CLOSED TO PREVENT LUMPING.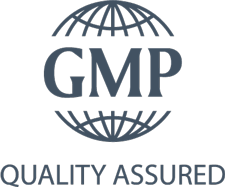 Customer Reviews
"I drink the chocolate Smash-It in the morning and the caramel one at night. It has been a major source of my protein intake. I love the taste of both flavors. I use almond milk which adds creaminess, and I find that I use two jars a month. The shaker is an added treat. Customer service for Smash-It has been terrific. As for my health, my recent blood work shows normal blood sugar and kidney function. All this said, I consider Smash-It to be the most important part of my daily diet. I like the fact that Smash-it contains digestive enzymes which I take with other foods. In addition, Smash-It contains a generous supply of necessary probiotics. To sum it up, it is hard to imagine a more complete food. Obviously at 78 years old I am not an athlete, but I am well educated in nutrition, so I appreciate the thought that went into developing Smash-It. I do not think there is an adult that would not benefit from it. I cannot think of another protein powder that is as healthy and tasty; I can say this from personal experience (and discarded half-full competitors). Thank you."
---
"I feel better, and I lost 7 lbs in the first two weeks! The Smash-It shakes are delicious and make it easy to stick with. I do like to have a weekly dinner out with my family, but I'm more aware of what I'm eating in that one night out. I'm most excited about maintaining my healthy blood sugar, to be honest."
---
"The Smash-It shake has helped me reduce my cravings, lose weight, and feel much better overall. I am finally off the sugar rollercoaster now and have much steadier energy levels all day long. The afternoon dip is all but gone. I no longer crave sweets or coffee during those times. Love the product."
---
"I was part way through a 50 lb weight loss when I discovered Smash-It. It solved the annoying problem of what to have for breakfast resulting in a very predictable energy/appetite curve for the rest of the day that has allowed me to plan and execute an effective diet. I have reached my desired weight but intend to keep using Smash-It because it helps organize my day. During my weight loss, my blood pressure and cholesterol numbers have remained healthy!"
---
"Smash-It works as advertised. The taste is great with no chalking aftertaste. I have used coconut water, spring water, and organic almond milk...all were quite delicious. I've also seen a reduction of toxic fat cells and maintained good blood sugar levels. With Smash-It, you have nothing to lose except toxic fat cells and everything to gain, as in good blood sugar metabolism. Thank you."
Mark Stanley P.
Oceanside, CA
---
"I have lost fifteen pounds since using the Smash-It shake. Every morning for breakfast, my husband and I mix it with almond milk, strawberries, blueberries, turmeric, spinach, kale, and half a banana. We love this shake because it keeps us feeling full until lunch! Just wanted to say that Smash-It is a GREAT product. "
Patricia N.
Spring Hill, FL
---
"I use Smash-It about 5 to 6 days a week. I love how it tastes and fills my desire for chocolate. My biggest result is the loss of 2 1/2" off my waist and improved digestion. I have recommended it to my family, along with some of the other products I have tried. The price is about what I would pay for, just the nutrient value, and yet you get so much more."
---
"I've been taking Smash-It twice a day since January. I do feel that my eating and cravings are improving. On most days, I don't eat as much as my cravings have been reduced. Thank you. "
---
"A Smash-It shake a day is no problem as it tastes so good. The biggest thing it has done for me was reduce my sugar cravings and curve my appetite. "
---
"I'm a type-2 diabetic who drinks a Smash-It shake in the morning. It holds me until lunch and also helps with bloating. "
Anthony R.
Clinton Township, MI
---
"The taste of Smash-It is delicious, and it fills me up for hours after drinking it. It also blends well with greens and small berries. My blood pressure is now much better, and I have lost some weight! "
---
"The Smash-It tastes excellent. Even better than protein drinks for seniors that you buy in stores. So far, I have lost 5lbs. I use it about four times a week. Sometimes for lunch and sometimes for dinner, depending on how I feel that day."
---
"Smash-It tastes good and seems to be delivering results. My stomach is slimmer and my pants aren't as tight. I bought this product to lose weight. So far, so good. howard."
---
"Smash-It is a way for me to eat a quick healthy lunch - delicious too! I use it 4-5 times a week. I love the taste. It's tasty and easy. I usually mix it with almond milk and ice."
Deb W.
Colorado Springs, CO
---
Submit your review for Smash-It! (Chocolate - 15 servings)
Also Available In