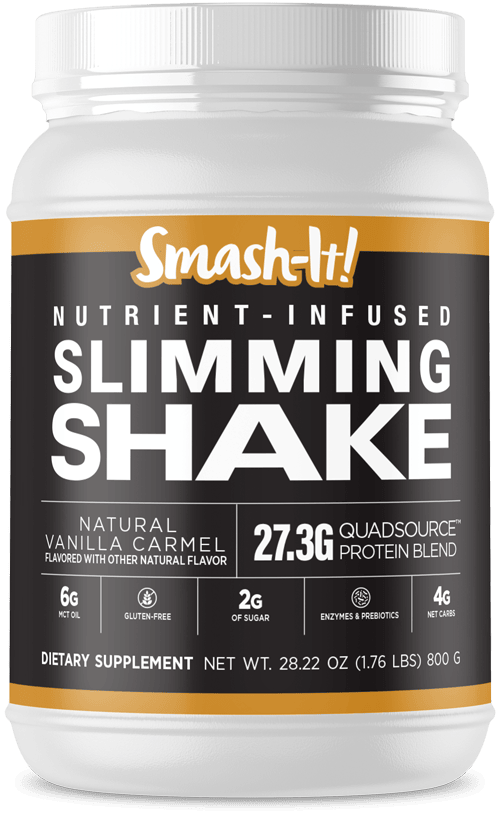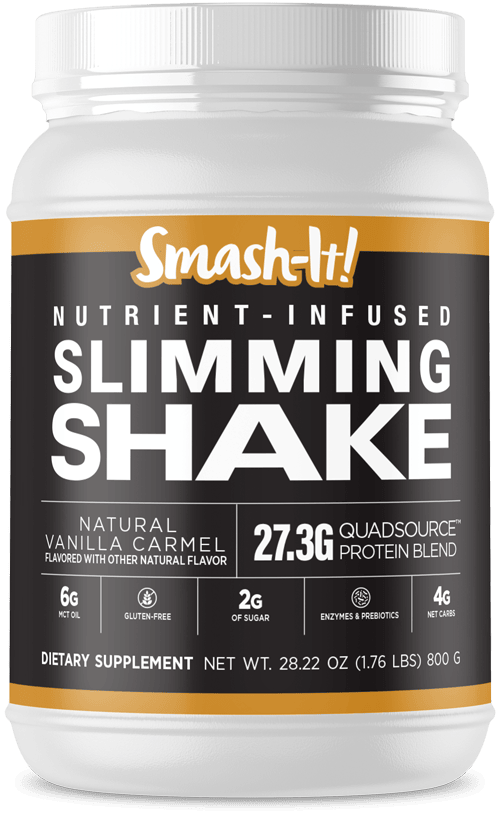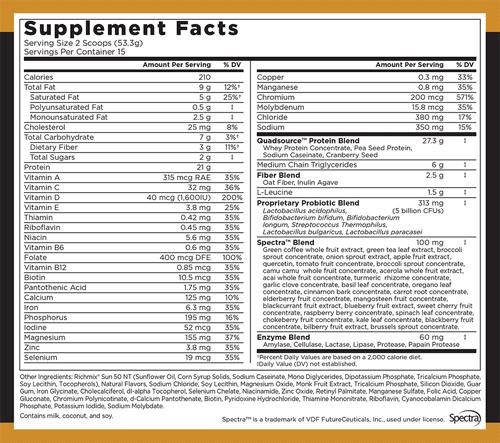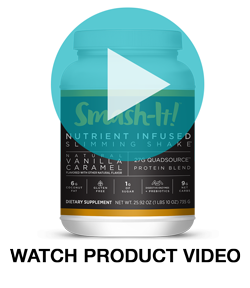 Smash-It! (Vanilla Caramel - 15 servings)
Smash-It! is a delicious high-protein, non-GMO and gluten-free nutrient infused shake scientifically formulated to help you fix toxic fat cells and manage your weight, support your already healthy blood pressure, and maintain healthy blood sugar.*
Why this is your best supplement to get leaner, healthier and stronger*

Fix "toxic" fat cells and manage your weight, support your already healthy blood pressure, and maintain healthy blood sugar.*

Smash-It! contains 26 grams of slow and fast-digesting QuadSource Protein Blend.

QuadSource is a mix of hormone-free whey, casein, pea, and cranberry seed proteins - all working together to help you:

Feel fuller – and for longer*
Curb your cravings*
Build and maintain lean body mass*

And with just 8 grams of low-glycemic net carbohydrates … only 1 gram of sugar … 5 grams of fiber … and 9 grams of MCT-rich healthy coconut fat … Smash-It! will:

"supercharge your fat burning ability and metabolism - all while boosting your heart health and supercharging your energy levels".*

What's more, to make Smash-It! the ultimate fat burning shake, it also contains the essential amino acid L-leucine.*

Hard to obtain through a regular diet, L-leucine is key in helping you minimize lean muscle loss - common while losing weight and aging.*

And it enhances your metabolism.*

But that's not all ...

In every serving of Smash-It! you also get the clinically studied Spectra blend. A powerful combination of 29 fruits, vegetables, spices, and herbs delivering targeted antioxidant protection against today's most harmful free radicals.*

And to ensure you get the maximum benefit …


… there's also two gut-soothing blends of probiotics and digestive enzymes. And prebiotic fiber.*

Together these keep your digestion smooth, enhance immune function and help you better digest nutrients.*

We guarantee Smash-It! Is your best choice to get leaner, healthier and stronger. Try it for yourself – if you don't agree, we'll give you your money back.*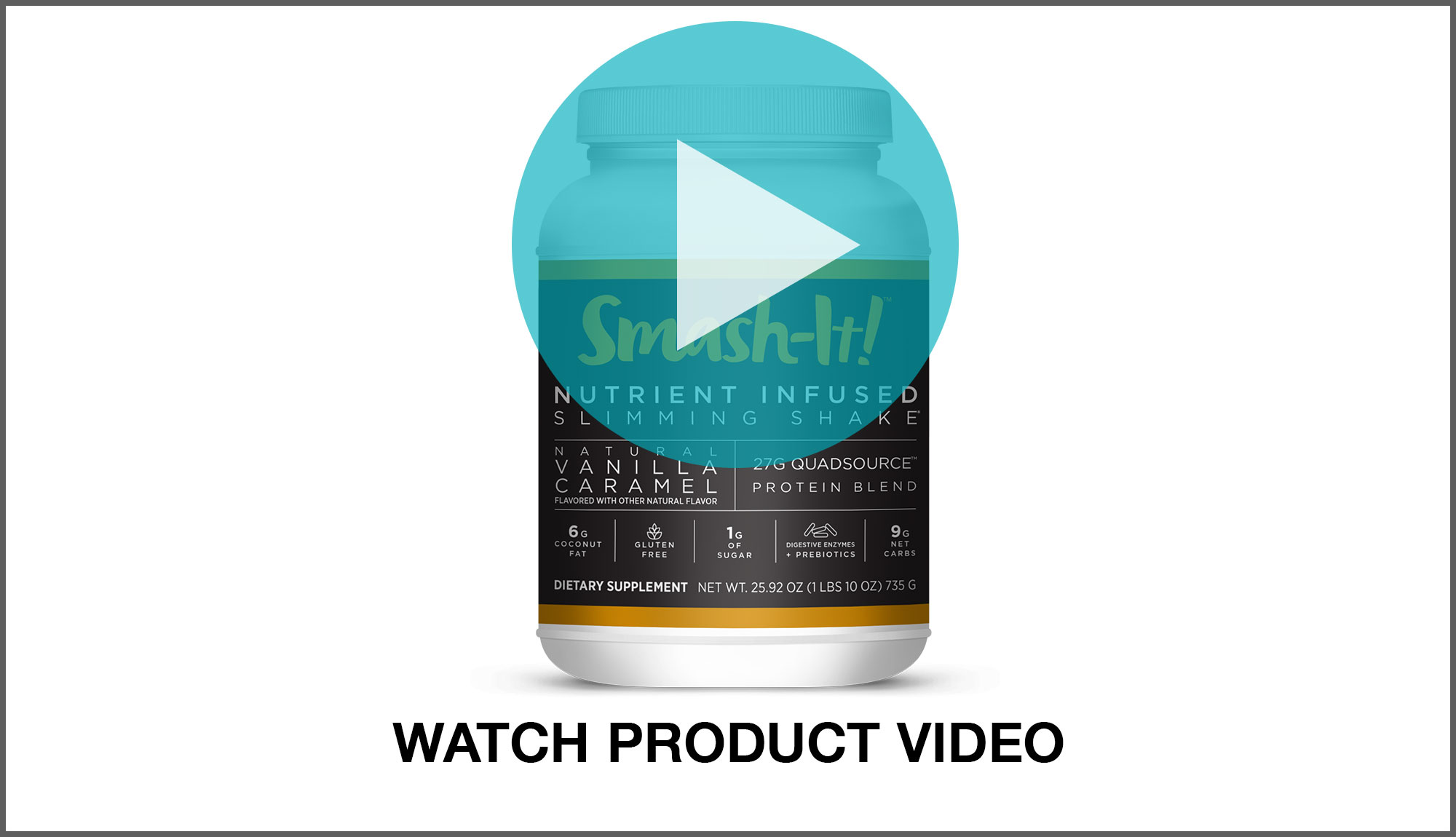 Serving Size: 2 Scoops (50.7 g)
Servings Per Container: 15
Directions: Add 2 scoops of Smash-It!® to 8 - 10 fl. oz. of ice cold water and mix vigorously until smooth. We recommend using a blender or shaker bottle with wire ball for best results. You may also use other cold liquids like almond milk or coconut milk for a smoother, creamier texture.
To ensure an accurate serving size, please use the scoop provided with your product. Fill the scoop and tap the bottom 3 or 4 times.
Polyunsaturated Fat
0.5 g
Monounsaturated Fat
2.5 g
Total Carbohydrate
10 g
4%*
Vitamin A
315 mcg RAE
35%
Vitamin D
40 mcg (1,600IU)
200%
Pantothenic Acid
1.75 mg
35%
Quadsource™ Protein Blend
Whey Protein Concentrate, Pea Protein, Sodium Caseinate, Cranberry Seed
26 g
**
Medium Chain Triglycerides (coconut)
6 g
**
Fiber Blend
Oat Fiber, Inulin Agave
2.5 g
**
Proprietary Probiotic Blend L. acidophilus, B. bifidum, B. longum,(5 billion CFUs) S. Thermophilus, L. bulgaricus, L. paracasei
313 mg
**
Spectra™ Blend
Green Tea Leaf Extract, Total Orac Blend [Broccoli Sprout Seed, Onion Bulb Extract, Tomato Fruit, Broccoli Floret and stems, Carrot Root, Spinach Leaf, Kale Leaf, Brussel Sprout Edible Head, Coffee Cherry Extract, Acerola Fruit Extract, Camu Camu Fruit, Quercetin Flower, Acai Fruit, Mangosteen Fruit, Green Tea Leaf Extract, Apple Skin, Turmeric Root Concentrate, Garlic Clove, Basil Leaf, Oregano Leaf, Cinnamon Branch and Stem Bark, Elderberry Fruit Extract]
100 mg
**
Enzyme Blend
Amylase, Cellulase, Lactase, Lipase, Protease, Papain Protease
60 mg
**
*Percent Daily Value based on a 2,000 calorie diet.
**Daily Value (DV) not established.
Other Ingredients: Richmix® Sun 50 NT (Sunflower Oil, Corn Syrup Solids, Sodium Caseinate, Mono Diglycerides, Dipotassium Phosphate, Tricalcium Phosphate, Soy Lecithin, Tocopherols), Cocoa Powder, Natural Flavors, Sea Salt, Sodium Chloride, Soy Lecithin, Magnesium Oxide, Monk Fruit Extract, Tricalcium Phosphate, Silicon Dioxide, Guar Gum, Iron Glycinate, Cholecalciferol, dl-alpha Tocopherol, Selenium Chelate, Niacinamide, Zinc Oxide, Retinyl Palmitate, Manganese Sulfate, Folic Acid Dicalcium Phosphate, Copper Gluconate, Chromium Polynicotinate, d-Calcium Pantothenate, Biotin Dicalcium Phosphate, Pyridoxine Hydrochloride, Thiamine Mononitrate, Riboflavin, Cyanocobalamin Dicalcium Phosphate, Potassium Iodide, Sodium Molybdate.
Contains: milk, coconut, and soy.
† At time Manufactured.
Spectra™ is a trademark of VDF FutureCeuticals, Inc., used under license.
Smash-It!® is not intended to be your sole source of calories, but rather taken 1-2 times daily as part of an overall healthy eating plan. .
CAUTION: Before using this product, or beginning any weight management program, it is advisable to consult your healthcare practitioner, especially if you are pregnant or nursing, on medication, or have a medical condition. For best results, a healthy weight-loss program should also include modest caloric intake, a healthy diet, and regular physical activity.
STORE IN A COOL, DRY PLACE. ENSURE THE BOTTLE IS TIGHTLY CLOSED TO PREVENT LUMPING.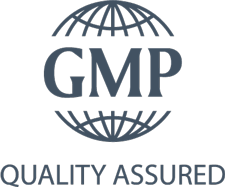 Customer Reviews
"Trying to cut sugar and Maltodextrin from my diet to lower my blood pressure. This stuff is great, I mix two scoops with a banana every morning along with some almond milk and my energy level is constant throughout the day. As an energy drink I mix two scoops with a little raw honey and I've had excellent results on my cycling rides, much better than Maltodextrin. This may be a side effect but I've experienced a dramatic drop in joint pain due to some broken bones in 2008, which I think is the reason I'm sleeping better. I know this is not a scientific review but I'm totally sold on this product. "
---
"I really don't care for drinking any kind of protein shakes but the flavor of Vanilla Caramel got me curious. Happily surprised at how tasty it is even in just water. It mixes well, too. And it's very filling."
---
"My wife and I have had 5 or so shakes so far and it is very good! It is smooth with a sweet taste but not too sweet. Another thing I love is it's not grainy like other protein shakes I've tried. It helps curve appetites as well. Plus it doesn't leave an after tasteI recommend this product!"
---
"Tastes great! It has that slight sweetness that I often crave. Other powders just don't taste this great; though it does have more calories per gram of protein that others. I started losing weight with my first week of using smash-it! Really helped me increase my protein intake!"
---
"I mixed with milk and drank it for breakfast. I didn't get hungry until 3+ hours later. The taste was average and the cost was average. I liked the ingredients in the mix. I think it is healthier than other products on the market."
---
"Love this product. It taste great and doesn't clump up when you blend it. I use it before my workouts and it helps me get through it with no problem. I also like that it has pea protein, mct, and probiotics included in it."
---
"I love this product! It makes me feel better when I take it. It has all the essential vitamins, probiotics, protein, and MCT powder you need to feel satisfied and good. I give it 5 stars! :-)"
---
"This Smash it shake has it all! I bought this and I was leery— I have tried a few other shakes that were not delicious. HOLY MOLY- This tastes so good!!! I love it with ice cold water or almond milk. It is not chalky and I look forward to this shake everyday. This is an excellent value with great taste."
---
"I loved this shake! No chalky aftertaste and it kept my hunger at bay. I added it half with almond milk, the other half water and it was creamy and delicious. Add chia seed and you got a super healthy shake that will hold you over until lunch time. Great product!"
---
"This is SO GOOD. I'm so glad to find a protein powder that has prebiotics in it. ? It doesn't have a chalky texture or a weird aftertaste even though it only has 2g of sugar. ?? It has helped to curb my appetite and has helped with my occasional sweet tooth."
---
Submit your review for Smash-It! (Vanilla Caramel - 15 servings)
Also Available In