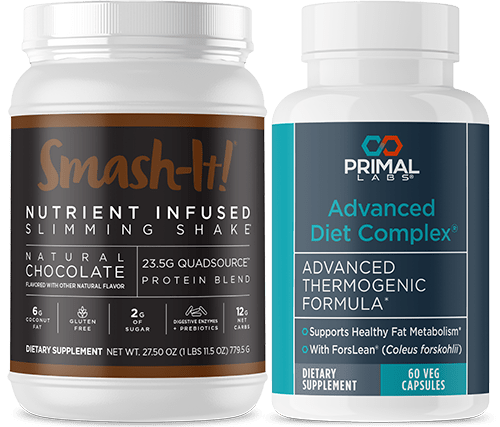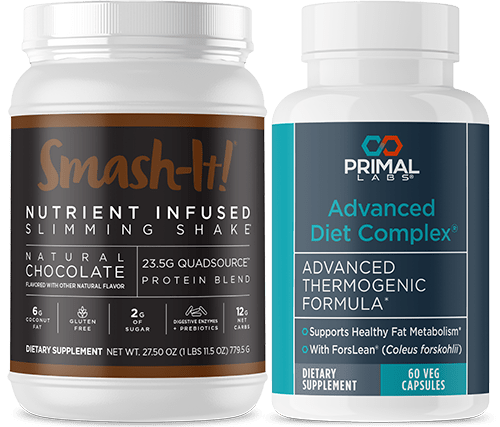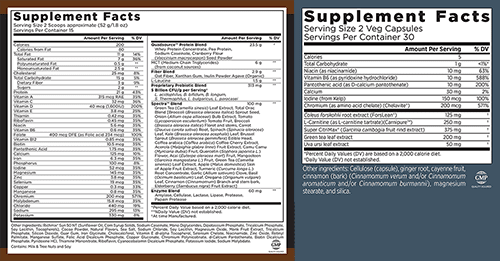 Smash-It (Chocolate, 15-Servings) and Advanced Diet Complex
Smash-It! is a delicious high-protein, non-GMO and gluten-free nutrient infused shake scientifically formulated to help you fix "toxic" fat cells and manage your weight, support your already healthy blood pressure, and maintain healthy blood sugar.*

Advanced Diet Complex features a ForsLean, Super Citrimax, and Carnipure L-Carnitine. Each of these ingredients has been shown to promote healthy fat utilization, especially when combined with a balanced diet and exercise program. To complete the formula, we have included essential nutrients and Green Tea Extract for metabolic support.*
Smash-It!
Why this is your best supplement to get leaner, healthier and stronger*

Fix "toxic" fat cells and manage your weight, support your already healthy blood pressure, and maintain healthy blood sugar.*

Smash-It! contains 23.5 grams of slow and fast-digesting QuadSource Protein Blend.

QuadSource is a mix of hormone-free whey, casein, pea, and cranberry seed proteins - all working together to help you:

Feel fuller – and for longer*
Curb your cravings*
Build and maintain lean body mass*

And with just 8 grams of low-glycemic net carbohydrates … only 1 gram of sugar … 5 grams of fiber … and 9 grams of MCT-rich healthy coconut fat … Smash-It! will:

"supercharge your fat burning ability and metabolism - all while boosting your heart health and supercharging your energy levels".*

What's more, to make Smash-It! the ultimate fat burning shake, it also contains the essential amino acid L-leucine.*

Hard to obtain through a regular diet, L-leucine is key in helping you minimize lean muscle loss - common while losing weight and aging.*

And it enhances your metabolism.*

But that's not all ...

In every serving of Smash-It! you also get the clinically studied Spectra blend. A powerful combination of 29 fruits, vegetables, spices, and herbs delivering targeted antioxidant protection against today's most harmful free radicals.*

And to ensure you get the maximum benefit …


… there's also two gut-soothing blends of probiotics and digestive enzymes. And prebiotic fiber.*

Together these keep your digestion smooth, enhance immune function and help you better digest nutrients.*

We guarantee Smash-It! Is your best choice to get leaner, healthier and stronger. Try it for yourself – if you don't agree, we'll give you your money back.*


Advanced Diet Complex
Weird Indian fruit extract burns 'untouchable' fat.*

Drag stubborn fat kicking and screaming to your cells where it's burned as energy.*

At last, with Garcinia cambogia extract, 'untouchable' fat has nowhere to hide. Now, you're burning more fat for energy throughout the day. When UCLA tested the effects of this remarkable fruit, they found it increases your fat burning capabilities 318%.*

Higher in antioxidants than blueberries—and even gogi berries!—Garcinia cambogia is the primary extract in this Advanced Diet Complex™.

Also notice the appetite curbing Hydroxitric acid. This is the active ingredient found in the fruit's rind. It's able to start work immediately. You feel less hungry, too.*

Meanwhile L-Carnitine and Coleus forskohlli improve your vascular response and support glucose tolerance, too. A study of 32 subjects found 2,000mg of L. Carnitine helped raise their glucose disposal rate 37.5%.*

So accept our risk-free offer today.

If you do not experience more energy, vitality, and fat loss with your first bottle, return it for a full refund of the product price.

Smash-It (Chocolate, 15-Servings)
Serving Size: 2 Scoops approximate (52 g/1.8 oz)
Servings Per Container: 15
Directions: Add 2 scoops of Smash-It!® to 8 - 10 fl. oz. of ice cold water and mix vigorously until smooth. We recommend using a blender or shaker bottle with wire ball for best results. You may also use other cold liquids like almond milk or coconut milk for a smoother, creamier texture.
To ensure an accurate serving size, please use the scoop provided with your product. Fill the scoop and tap the bottom 3 or 4 times.
Polyunsaturated Fat
0.5 g
**
Monounsaturated Fat
2.5 g
**
Total Carbohydrate
15 g
5%
Vitamin A
315 mcg RAE
35%
Vitamin D
40 mcg (1,600IU)
200%
Folate
400 mcg DFE (as Folic acid 234 mcg)
100%
Pantothenic Acid
1.75 mg
35%
Quadsource™ Protein Blend Whey Protein Concentrate, Pea Protein, Sodium Caseinate, Cranberry Flour (Vaccinium macrocarpon) Seed Powder
23.5 g
†
MCT
(Medium Chain Triglycerides) (from coconut sources)
6 g
**
Fiber Blend
Oat Fiber, Xanthan Gum, Inulin Powder Agave (Organic)
2.9 g
**
Proprietary Probiotic Blend 5 Billion CFU/g per Serving† L. acidophilus, B. bifidum, B. longum, S. Thermophilus, L. bulgaricus, L. paracasei
313 mg
**
Spectra™ Blend Green Tea (Camellia sinesis) Leaf Extract, Total Orac Blend [Broccoli (Brassica oleracea italica) Sprout Seed, Onion (Allium cepa alliaceae) Bulb Extract, Tomato (Lycopersicon esculentum) Tomato Fruit, Broccoli (Brassica oleracea italica) Floret and stems, Carrot (Daucus carota sativa) Root, Spinach (Spinacia oleracea) Leaf, Kale (Brassica oleracea acephala) Leaf, Brussel Sprout (Brassica oleracea gemmifera) Edible Head, Coffea arabica (Coffea arabica) Coffee Cherry Extract, Acerola (Malpighia glabra linne) Fruit Extract, Camu Camu (Myrciaria dubia) Fruit, Quercetin (Sophora japonica L.) Flower, Acai (Euterpe oleracea mart) Fruit, Mangosteen (Garcinia mangostana L.) Fruit, Green Tea (Camellia sinensis) Leaf Extract, Apple (Malus domestica) Skin of Apple Fruit Extract, Turmeric (Curcuma longa L.) Root Concentrate, Garlic (Allium sativum) Clove, Basil (Ocimum basilicum) Leaf, Oregano (Origanum vulgare) Leaf, Cinnamon (Cinnamomum) Branch and stem bark, Elderberry (Sambucus nigra) Fruit Extract]
100 mg
**
Enzyme Blend
Amylase, Cellulase, Lactase, Lipase, Protease, Papain Protease
60 mg
**
*Percent Daily Value based on a 2,000 calorie diet.
**%Daily Value (DV) not established.
† At time Manufactured.
Other Ingredients: Richmix® Sun 50 NT (Sunflower Oil, Corn Syrup Solids, Sodium Caseinate, Mono Diglycerides, Dipotassium Phosphate, Tricalcium Phosphate, Soy Lecithin, Tocopherols), Cocoa Powder, Natural Flavors, Sea Salt, Sodium Chloride, Soy Lecithin, Magnesium Oxide, Monk Fruit Extract, Tricalcium Phosphate, Silicon Dioxide, Guar Gum, Iron Glycinate, Cholecalciferol, Vitamin E dl-alpha Tocopherol, Selenium Chelate, Niacinamide, Zinc Oxide, Retinyl Palmitate, Manganese Sulfate, Folic Acid Dicalcium Phosphate, Copper Gluconate, Chromium Polynicotinate, d-Calcium Pantothenate, Biotin Dicalcium Phosphate, Pyridoxine HCl, Thiamine Mononitrate, Riboflavin, Cyanocobalamin Dicalcium Phosphate, Potassium Iodide, Sodium Molybdate.
Contains: Milk & Tree Nuts and Soy
Spectra™ is a trademark of VDF FutureCeuticals, Inc., used under license.
Smash-It!® is not intended to be your sole source of calories, but rather taken 1-2 times daily as part of an overall healthy eating plan.
CAUTION: Before using this product, or beginning any weight management program, it is advisable to consult your healthcare practitioner, especially if you are pregnant or nursing, on medication, or have a medical condition. For best results, a healthy weight-loss program should also include modest caloric intake, a healthy diet, and regular physical activity.
STORE IN A COOL, DRY PLACE. ENSURE THE BOTTLE IS TIGHTLY CLOSED TO PREVENT LUMPING.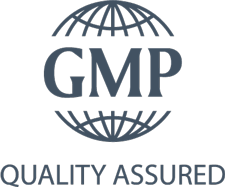 Advanced Diet Complex®
Serving Size: 2 Veg Capsules
Servings Per Container: 30
Directions: Take 1 to 2 capsules twice daily.
Total Carbohydrate
1 g
<1%*
Niacin (as niacinamide)
10 mg
63%
Vitamin B6 (as pyridoxine hydrochloride)
10 mg
588%
Pantothenic acid (as D-calcium pantothenate)
10 mg
200%
lodine (from Kelp)
150 mcg
100%
Chromium (as amino acid chelate) (Chelavite®)
200 mcg
571%
Coleus forskohlii root extract (ForsLean®)
125 mg
†
L-Carnitine (as L-carnitine tartrate) (Carnipure™)
250 mg
†
Super CitriMax® (Garcinia cambogia fruit rind extract)
375 mg
†
Green tea leaf extract
200 mg
†
Uva ursi leaf extract
50 mg
†
*Percent Daily Values (DV) are based on a 2,000 calorie diet.
*Daily Value (DV) not established.
Other Ingredients: Cellulose (capsule), ginger root, cayenne fruit, cinnamon (Dark) Cinnamomum verum and/or Cinnamomum aromaticum and/or Cinnamomum burmannii), magnesium stearate, and silica.
Chelavite® is a registered trademark of Albion Laboratories, Inc.
ForsLean® is a registered trademark of Sabinsa Corporation.
Carnipure™ offers purest L-Carnitine and is a trademark of Lonza Ltd., Switzerland.
Super CitriMax® is a registered trademark of InterHealth Nutraceuticals Incorporated.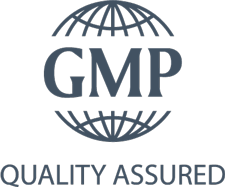 Smash-It!
Advanced Diet Complex
Submit your review for Smash-It (Chocolate, 15-Servings) and Advanced Diet Complex
Related Products