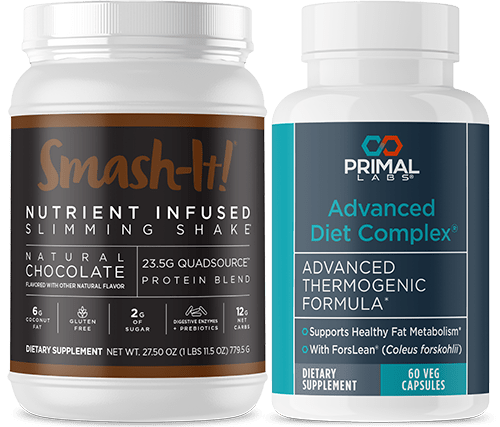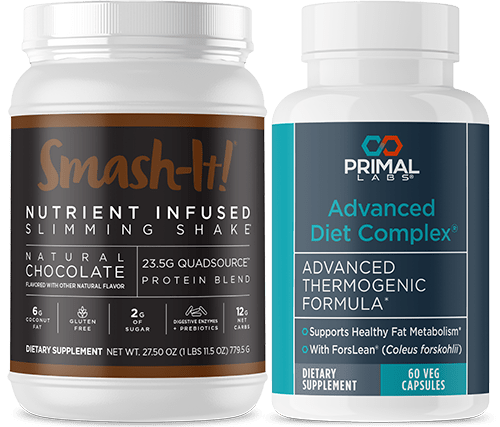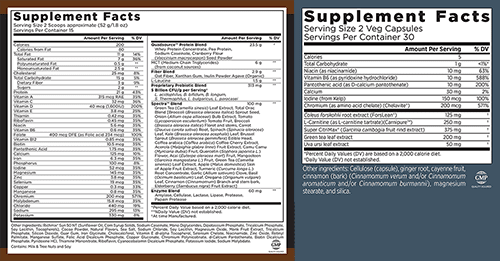 Smash-It (Chocolate, 15-Servings) and Advanced Diet Complex
Smash-It! is a delicious high-protein, non-GMO and gluten-free nutrient infused shake scientifically formulated to help you fix "toxic" fat cells and manage your weight, support your already healthy blood pressure, and maintain healthy blood sugar.*

Advanced Diet Complex features a ForsLean, Super Citrimax, and Carnipure L-Carnitine. Each of these ingredients has been shown to promote healthy fat utilization, especially when combined with a balanced diet and exercise program. To complete the formula, we have included essential nutrients and Green Tea Extract for metabolic support.*
Smash-It!
Why this is your best supplement to get leaner, healthier and stronger*

Fix "toxic" fat cells and manage your weight, support your already healthy blood pressure, and maintain healthy blood sugar.*

Smash-It! contains 25 grams of slow and fast-digesting QuadSource Protein Blend.

QuadSource is a mix of hormone-free whey, casein, pea, and cranberry seed proteins - all working together to help you:

Feel fuller – and for longer*
Curb your cravings*
Build and maintain lean body mass*

And with just 8 grams of low-glycemic net carbohydrates … only 1 gram of sugar … 5 grams of fiber … and 9 grams of MCT-rich healthy coconut fat … Smash-It! will:

"supercharge your fat burning ability and metabolism - all while boosting your heart health and supercharging your energy levels".*

What's more, to make Smash-It! the ultimate fat burning shake, it also contains the essential amino acid L-leucine.*

Hard to obtain through a regular diet, L-leucine is key in helping you minimize lean muscle loss - common while losing weight and aging.*

And it enhances your metabolism.*

But that's not all ...

In every serving of Smash-It! you also get the clinically studied Spectra blend. A powerful combination of 29 fruits, vegetables, spices, and herbs delivering targeted antioxidant protection against today's most harmful free radicals.*

And to ensure you get the maximum benefit …


… there's also two gut-soothing blends of probiotics and digestive enzymes. And prebiotic fiber.*

Together these keep your digestion smooth, enhance immune function and help you better digest nutrients.*

We guarantee Smash-It! Is your best choice to get leaner, healthier and stronger. Try it for yourself – if you don't agree, we'll give you your money back.*


Advanced Diet Complex
Weird Indian fruit extract burns 'untouchable' fat.*

Drag stubborn fat kicking and screaming to your cells where it's burned as energy.*

At last, with Garcinia cambogia extract, 'untouchable' fat has nowhere to hide. Now, you're burning more fat for energy throughout the day. When UCLA tested the effects of this remarkable fruit, they found it increases your fat burning capabilities 318%.*

Higher in antioxidants than blueberries—and even gogi berries!—Garcinia cambogia is the primary extract in this Advanced Diet Complex™.

Also notice the appetite curbing Hydroxitric acid. This is the active ingredient found in the fruit's rind. It's able to start work immediately. You feel less hungry, too.*

Meanwhile L-Carnitine and Coleus forskohlli improve your vascular response and support glucose tolerance, too. A study of 32 subjects found 2,000mg of L. Carnitine helped raise their glucose disposal rate 37.5%.*

So accept our risk-free offer today.

If you do not experience more energy, vitality, and fat loss with your first bottle, return it for a full refund of the product price.

Smash-It!
Advanced Diet Complex
Related Products